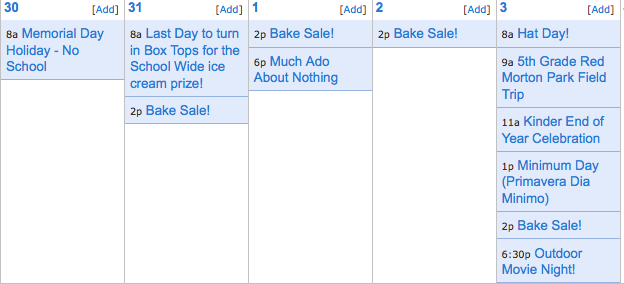 Make sure to mark your calendars for the following events at Roosevelt this week:
Tuesday – Friday
After school Bake Sale! Members of our PTA are hosting a daily bake sale each afternoon at 2:00. All items will cost $1. All proceeds will go towards technology upgrades at Roosevelt. The PTA would like to be able to purchase document cameras in 2 more classrooms, 2 more computers for the computer lab and cords to connect the document cameras to the teacher laptops. If you would like to contribute baked items, please drop them off at the school office.
Monday, May 30
Memorial Day Holiday – No School!
Tuesday, May 31
Last day to turn in Box Tops! As of Friday, the total collected was 1899 – just 101 Box Tops to go! If the the students bring in 2000 Box Tops by Tuesday, EVERY student will win an ice cream party! So turn in those Box Tops!
Wednesday, June 1
Sarah Coyle's 4th & 5th grade TIG reading group will be presenting scenes from William Shakespeare's Much Ado About Nothing under the direction of Broadway by the Bay's Tony Gapastion. The performance will at 6:00pm in the cafeteria. Ask your children about the scenes they saw during last Friday's award assemblies – they were transfixed! Come and show your support!
Friday, June 3
Hat Day! Have your child come to school with their favorite hat!
11:00 Kindergarten End of Year celebration. Dismissal for Kindergarten at 12:10.
Minimum day dismissal times for grades 1 – 5.
Dinner and a movie! Come and enjoy pizza, nachos and corn before the showing of Tangled! All food and beverages will be $1. The doors to the cafeteria will open at 6:15 to put down your pillows and sleeping bags and then go outside to enjoy a bite to eat! Come back inside at 6:45 to enjoy the movie. Popcorn, candy and water will be available during the movie. Popcorn and water will cost $1 and candy will cost $2. We are asking that you DO NOT eat the pizza, corn or nachos inside the cafeteria to make the end of the movie cleanup easier for our volunteers.
Dismissal Times…
Beginning Friday, June 3, all Kindergarten classes will start at 8:00 and end at 12:10. Monday, June 6 – Wednesday, June 8 will be Minimum Days for grades 1 – 5.
Thursday, June 9 will be a Super Minimum Day – all classes dismissed at 12:00!
What's New on the Parent Blog…
I'm hoping to add pictures from last week's Field Day and pictures from this week's Much Ado About Nothing performance and Kindergarten celebration. If anyone has pictures that they'd like to share, I'll be happy to post them. www.rooseveltparents.com
Upcoming Events…
There's a lot coming up as the school year winds down:
May 30 – Memorial Day (No School)
June 1 – Much Ado About Nothing
June 2 – Cooking contest
June 3 – Hat Day, 5th Grade BBQ/Swim Field Trip, Kindergarten End of Year Celebration, Outdoor Movie Night
June 9 – Last Day of School!
I try to keep the calendar on the Yahoo group as up to date as possible, so if you need to take a look, go to the Yahoo calendar
PTA Pledges…
These are the last two weeks to turn in any pledge money to the PTA. The PTA still needs your donations to support our P.E. program. Please stop by the office or send your pledge money in an envelope to school with your child. Thank you for supporting the extra curricular programs here at Roosevelt!
Art in Action for next year…
Volunteers for Art in Action are needed for each grade level next year. You can sign up to be a teacher (docent) or assistant. If you are interested in being a docent, training is provided and you don't need any previous art experience. Art is such a wonderful addition to our school's curriculum and, like music instruction, develops areas in the brain that are responsible for creativity, critical thinking skills and language. The time commitment is about 1 hour per month. This is one of those volunteer opportunities that is a low commitment with big rewards! If you are interested, or have questions, please contact kazberg66@yahoo.com
RCEF…
The RCEF is once again trying to raise money to keep music education in our schools. At Roosevelt, the RCEF has paid for the Music for Learners program in grades 3 -5 and with our 6th graders next year, they're hoping to keep funding instrumental music. It costs $270 per year per child for music instruction. Music has been proven to develop areas of the brain that increase a students ability to think creatively and solve advanced math problems. Any amount you can give gets them closer to their goal of funding music for ALL children in the district. For more information, or to make a donation, go to www.rcef.org
The RCEF will also be hosting the July 4 Fun Run in downtown Redwood City. The RCEF needs volunteers, runners, and sponsors. Proceeds go to Save Our School Music. Contact event co-chair Tommy Vargas at cheftommyv@gmail.com. Register for the event and RUN: www.rcef.org/funrun
Volunteers Needed for Movie Night…
At last week's PTA meeting, it was decided that pizza, nachos and corn would be available at a small cost before the June 3 movie night so that families can come and enjoy something to eat before watching the movie. Water, popcorn and candy will also be for sale during the movie. Volunteers are needed both before and during the movie to help. Please contact Aurora Gallardo aurora.gallardo@yfes.org or Kim Schiff kbschiff@sbcglobal.net
Bake sale items needed…
Valerie Romero has been busy selling items for the bake sale after school. If you have any baked items that you would like to contribute, please drop them off in the school office. If you have any questions, please contact Valerie Romero romero.valeriagomez@gmail.com
Next year's after school program…
Roosevelt is switching after school care providers next year. The new program will be offered by the YMCA. Applications are available in the school office.
Speed bump meeting update…
PIA, Second Baptist Church, Roosevelt parents/teachers/principal, a Roosevelt neighbor, Councilman Bain and Redwood City Engineer Hammack all were present at the meeting. It was determined that a speed table will be installed some time in August, 2011, for an approximate six month trial period wherein the city of Redwood City will run data to see if the tables are working to decrease speed and increase safety on Vera Avenue.
Have a great week!
---

Advertising helps supplement this free website by DigitalPTO.com | Disable Ads Here