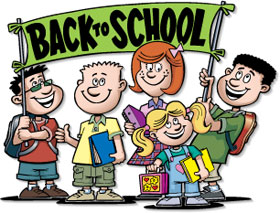 Believe it or not, summer vacation is coming to a close, so here's an update on MAZE Days, the first day of school and Back to School Night:
MAZE Days…
Your school paperwork should be arriving in the mail sometime during the week of August 8 (emergency forms, lunch forms, PTA forms, etc.).  MAZE Days are your chance to turn in all of your paperwork and find out your child's class/teacher assignment for the year.  This year's MAZE days are scheduled for the following dates and times:
Tuesday, August 16th from 5:00pm to 8:00pm for families with last names starting with A – L
Thursday, August 18th from 4:00pm to 7:00pm for families with last names starting with M – Z
You need to fill out all of your forms before MAZE Day, but if you are having trouble with any of your forms, assistance will be provided in the YMCA After School Room (the building next to the Cafeteria) during both MAZE days.  Parents only need to attend one MAZE day.  All Roosevelt parents, not just Kinder and new families, are asked to attend. This year,  MAZE Day will be held in both the school cafeteria and the YMCA After School Room.   Once you've turned in all of your completed forms, you will receive your child's teacher/class assignment and school supply list.
If you can't attend one of the scheduled MAZE Days, you can bring your paperwork into the office in the days before the start of school, or in the morning before the first day of school.
First Day of School…
For the 2011/2012 school year, the first day of school is August 22.
Grades K – 6 begin at 8:00am.
Grades 1 – 3 are dismissed at 2:00 and grades 4 – 6 are dismissed at 2:20.
The first day of school for Kindergarteners (August 22) serves as a Parent/Student Info Day. Please note: Kinder Parents must attend the first day and must stay with their child until dismissal. Parents will meet the teachers, learn about pick-up and drop-off procedures, learn lunch and snack routines, give contact information, give Early Bird/Later Gator schedule preference, etc. on that day.
On August 23rd, the Kinders will stay without parents from 8:00am-11:40am. This schedule will remain for all Kinder students until September 2.
On September 6, the Early Bird (8:00-12:10) and Later Gator (9:00-1:50) Schedules will begin.
Mark Your Calendars…
The Roosevelt Staff and PTA would like to invite you to Back to School Night & Ice Cream Social on Thursday, September 8.  Come to school and meet your child's teacher, see what he/she has planned for the year and then come and see old friends and meet new ones in the school cafeteria for an Ice Cream Social!
---

Advertising helps supplement this free website by DigitalPTO.com | Disable Ads Here