Make sure to mark your calendars for the following events at Roosevelt this week:

Monday, September 17
Site Council meeting at 6:30pm in the Faculty Lounge (Room 14). Come and hear the latest district and school news. We will also be discussing the allocation of Measure W funds. All are encouraged to attend and Spanish translation is available.
Friday, September 21
Free Dress for students that turned in $50 toward the candy sale by last Friday, September 14.
Important Dates…
September 24 – PTA Meeting at 6:00pm in Room 14
September 27 – Coffee with Principal Girardi at 8:00am
September 28 – Last day for candy fundraising
October 5 – Free Dress Friday
October 6 & 7 – Beautification Days at Roosevelt – Volunteers Needed!
Trivia Question…
The World's Finest Chocolate Company was accepted into the Guinness Book of World Records for the largest chocolate bar. How big was the record breaking chocolate bar?
a. 9,700 lbs
b. 11,300 lbs
c. 12,290 lbs
d. 13,860 lbs
Make your guess and find out if you're correct at the bottom!
Care Bags Due…
Last call to turn in your child's Care Bag to his/her teacher. These bags are stored in each classroom in case of an emergency situation. Please make sure each bag has some non-perishable snacks (dried fruit, crackers, juice box, granola bars, fruit roll ups, etc.) You can also include kleenex and a note and/or picture to reassure your child in the event of an emergency. The bags can just be a gallon sized ziploc bag. Each teacher has a supply of water for the class and one granola bar per child plus necessary first aid supplies. Everyone hopes that these bags will not be needed this year, but in case they are needed, it's important that your child has something.
Candy Sales…
It's that time of year again for our school's biggest fundraiser – World's Finest Chocolate candy sales! Students selling 5 cases will get free dress on every Friday for the rest of the year and they will have a movie/pizza day. (Families with two or more children must sell 8 cases)  Students selling 8 cases will qualify for a limo ride to In-N-Out in Mountain View for lunch. (Families with two or more children must sell 12 cases) For a list of all of the prizes, please look at the purple sheet that came home with the order form. If you need additional boxes, please come to the office.
Enrichment Program Donations…
Before next week's PTA meeting, the donations and pledges will be calculated and the final decision will be made on which enrichment programs will be funded for the school year.  If the money necessary to fund everything isn't received or pledged, programs will be cut. The programs on the wish list to be funded are the following: art instruction, music, drama, Accelerated Reader, after school clubs, field trips, educational assemblies, library books, outdoor education, jiji math, staff to tutor students that need extra help and so much more!
Roosevelt is asking each family to contribute $100 per child for the school year. You can sign up for a monthly contribution for as little as $10 per month. To fund all of these programs, it's about 55 cents for each day that your child is in school! Checks can be made out to Roosevelt PTA.  Please stop by the office or send your pledge forms in an envelope to school with your child. Thank you for supporting the extra curricular programs at Roosevelt!
Save the Date…
We're less than a month away from Roosevelt's Beautification Weekend! Wonderful community sponsors including Peninsula Covenant Church (PCC) and 2nd Mile have planned some wonderful changes for our campus, but they can only happen with the help of our families. We will need about 200 volunteers that day to make everything happen. There will be something for every skill level and ability and children are encouraged to help on that day as well. More details will follow as the date approaches, but please save October 6 & 7 on your calendars for this wonderful event/gift.
Box Tops…
Start collecting those Box Tops! A contest will be coming up soon, so get a head start now. Make sure to ask friends, family and neighbors to save them for you!
November Elections…
Meet the candidates running for state assembly and senate in San Mateo and Santa Clara counties and hear their views regarding public education. Educate Our State is co-hosting a forum with the San Mateo County School Board Association on Monday, September 24th 6:30pm – 8:30pm at College of San Mateo Theatre (1700 West Hillsdale Blvd, San Mateo) Doors open at 6pm.
http://www.smcsba.org/wp-content/uploads/2012/08/EOSSMCSBA-Candidate-Forum.pdf
Trivia Question Answer…
The correct answer is c – 12,290 lbs! In September 2011, the World's Finest Chocolate company unveiled the record breaking candy bar that measured 3 feet tall and 21 feet long and 12,290 pounds! It included 1,200 pounds of almonds, 5,500 pounds of sugar, 2,000 pounds of milk powder, and 1,700 pounds of cocoa butter. It would take 209,000 candy bars to equal this world record breaking bar. Let's see if we can break a record with candy sales!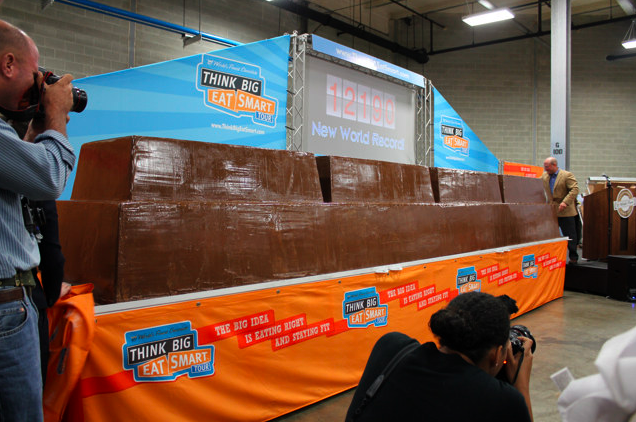 Have a great week!
---

Advertising helps supplement this free website by DigitalPTO.com | Disable Ads Here