Make sure to mark your calendars for the following events at Roosevelt this week:
Monday, October 29
4th and 5th grade students who scored proficient or advanced on last May's CST Test will be receiving their medals on Monday. Students who also showed significant gains in their test scores will also be receiving medals. The award ceremony begins at 8:15am.
The 5th graders have been working with TheatreWorks for two weeks and will be acting out what they've learned about the digestive and respiratory systems at 6:00pm in the cafeteria. All are welcome to attend and Spanish translation will be available. Roosevelt is one of only two schools in the district that offer the Theatreworks program.
Wednesday, October 31
Halloween Parade at 8:15am on the lower playground. Students should come to school in costume and also bring their uniform to change in to after the parade. Costume rules: no blood/gore or weapons and costumes must be age appropriate. Please keep in mind that grades K – 7 will be participating in the parade and that a costume should not be too scary for the younger students.
Some classrooms will be having Halloween parties, so make sure to look for signup sheets or ask your child's teacher if anything is needed.
Thursday, November 1
Lockdown Drill at 9:50am.
Friday, November 2
Free Dress Friday

Important Dates…
November 5 – Site Council Meeting at 6:30pm in Room 14
November 6 – Election Day
November 7 – Kinder Tour Night at 6:30
November 9 – Restaurant Fundraiser – Johnny Rockets
November 12 – Veterans Day – No School
November 13 – 16 – Book Fair (4th grade families providing volunteers)
November 19-20 – Parent/Teacher Conferences – No School
November 21 – 23 – Thanksgiving Holiday – No School
November 26 – PTA Meeting at 6:00pm in Room 14
November 29 – Coffee with Principal Girardi at 8:00am in Room 2
Trivia Question…
What city hosts the world's largest Halloween parade every year?
a. Tom's River, New Jersey
b. New York, New York
c. Long Beach, California
Make your guess and find out if you're correct at the bottom!
Candy sale update…
There are still some families that haven't yet turned in money for the World's Finest Chocolate Sales. Our PTA had to turn in the money to World's Finest for all of the boxes that were taken out, so please send your money in so that the PTA may be reimbursed and that money can then be used for programs for the students.
Parent/Teacher Conferences…
Teachers have been sending home schedules for Parent/Teacher conferences. Please make sure that you've signed up for a time and if you haven't, please contact your child's teacher.
Holiday Craft Fair…
Crafters! Start your holiday selling early and build a new holiday tradition. Shoppers, plan for a fun day of early shopping, with refreshments, at the beautiful, historic Redwood City Woman's Club on November 3 from 9:00am-3:00pm.Proceeds benefit the SEPTAR Special Education PTA and the RCWC.
Funding Enrichment…
Pledge reminders will be sent out soon so please send in your donations. Roosevelt is asking for $100 per student for the year to pay for enrichment programs such as the dance class, the school wide art program by Art 4 All, the girls running club, field trips for all grades and hopefully much, much more! Please make checks out to Roosevelt PTA. Payments may be turned in to your child's classroom or the school office. Make sure to include your child's name and room # on the envelope or check memo line so that your family is credited with the payment. Thanks to our generous parents for making funding for these programs possible.
On the Parent Blog…
Pictures of the 2nd graders and their Balance and Motion PBL Unit have been posted. Also posted is a video of the 7th graders doing a skit from their study of the Renaissance and the Black Plague.  Thanks to Mr. Williams for pictures from the 5th graders working with TheatreWorks and for pictures of the 5th grade field trip to Heal FarmKeep checking the blog for classroom newsletters. Kinder and middle school tour season is starting early, so more pictures of what's happening in our classrooms are desperately needed. If you have any that you'd like to send in, let us know. And don't forget, for the most accurate information, check out the parent blog.
Kinder Tour Night…
If you know anyone that has a child that will be entering Kindergarten next year, let them know that Roosevelt will be holding a Kindergarten Tour Night on November 7 from 6:30pm to 7:30pm. For more information, go to the School Tours section of the parent blog or call the school office.
Volunteer Timesheets…
If you are volunteering any of your time for the school (including attending school meetings and events), don't forget to fill out a Volunteer Timesheet so that your hours can be counted! Volunteer Timesheets are available in the classrooms and the school office. They may be turned in to your child's classroom or the office.
"Like" us on Facebook…
The district created a Facebook page for every school in the district. Please be sure to "Like" the Roosevelt page to get school and district updates and pictures from school events in your news feed. http://www.facebook.com/pages/Roosevelt-Elementary-School/214259038634327
Trivia Question Answer…
The correct answer is b. New York, New York! The Greenwich Village Halloween Parade in New York City stretches more than a mile. This cultural event draws two million spectators, fifty thousand costumed participants, dancers, artists and circus performers, dozens of floats bearing live bands and other musical and performing acts, and a world-wide television audience of one hundred million. Answer a. Tom's River, New Jersey, boasts the 2nd largest Halloween Parade and Answer c. Long Beach, California has the largest pet Halloween parade!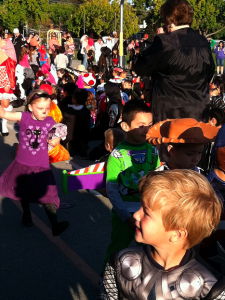 Roosevelt's parade may not stretch a mile, but it's a great Roosevelt tradition that shouldn't be missed! Come and enjoy the fun on Wednesday morning at 8:15am on the lower playground!
Have a great week!
---

Advertising helps supplement this free website by DigitalPTO.com | Disable Ads Here