​

Make sure to mark your calendars for the following events at Roosevelt this week:
Benchmark Testing This Week: Some classes will be taking or finishing benchmark testing this week (others finished or did some before the Thanksgiving break).
Monday, November 26
PTA meeting at 6:00pm in the Faculty Lounge (Room 14).The PTA will be discussing upcoming events and looking at the budget for enrichment programs for this year. All are welcome to attend and Spanish translation is available. Free childcare is offered in the YMCA room.(Attendance counts toward your 40 hour time commitment)
Thursday, November 29
Free Dress for Parent/Teacher Conference Attendance (If you met with your child's teacher for P/T conferences, your child may wear free dress)
Please come and meet with Principal Girardi over a cup of coffee and breakfast snacks at 8:00am in the Parent Room (Room 2). Hear first hand about district and school news, talk about any issues or concerns you may have or just come for the coffee. This is also a great opportunity to meet other Roosevelt parents! This is a very casual meeting so if you can only drop in for a few minutes, you're still welcome to attend. Spanish translation is available for those that need it. If you have a younger child, you are welcome to bring him/her.
Saturday, December 1
Hometown Holidays Parade! Come and walk with Roosevelt in the parade! Walking in the parade counts toward your 40 hour time commitment (More Details Below)
Important Dates…
December 3-7 – Holiday Gift Store (6th Grade families volunteering)
December 7 – Free Dress Friday
December 18 – WinterFest! Grades K, 2 & 6 at 5:30pm — Grades 1 & 7 at 7:00pm
December 19- WinterFest! Grades 3, 4 & 5 at 6:00pm
December 21 – No School – Begin Winter Break
December 24 – Jan 4 – No School – Winter Break
January 6 – Classes Resume
Trivia Question…
An easy one this week! Mele Kalikimaka is a phrase you will hear in Hawaii during the Christmas season.
a. True
b. False
Make your guess and find out if you're right at the bottom!
Hometown Holidays Parade…
Roosevelt will once again be walking in Redwood City's Hometown Holidays Parade on December 1 at 4:30pm. This year, Roosevelt's theme will be Christmas in Hawaii. Both Kindergarten and 2nd grade have been assigned to help with this event, but families from other grade levels are also welcome to help and participate in the parade. Parents and children are needed to walk in the parade and Mrs. Torres is working with Kinders to teach them a short hula dance for the short stop during the parade. Roosevelt's parade organizer would like 10 students from each grade level to walk in the parade. If you want to participate, please contact Brandi Sevudredre at blkchrry@hotmail.com Glow in the dark lei head adornments are being ordered and two parents are needed to hold tiki torches in the parade.
This is such a fun event for everyone and at the end of the parade there is the tree lighting ceremony in front of City Hall and a big fireworks show in front of the main library!
Honey Bear Trees…
If you are buying a fresh Christmas tree this year or need a fresh wreath or garland, Honey Bear Trees in Redwood City on Woodside or in San Carlos on El Camino is donating a percentage of your purchase back to our school. Tell them you are from Roosevelt School at checkout and they will make sure Roosevelt gets a portion of your sale.
Online Shopping to support Roosevelt…
If you're planning on doing any online shopping for the holidays (and all year) here's an option that will support Roosevelt:
Check out the eScrip Online Mall at www.escrip.com and in the upper right hand corner under Shop Today! click on At the Online Mall and it will direct you to their directory of participating stores. Then just shop! You can also download their "Auto Earn" application and it will automatically donate money to our school from participating vendors as you shop online so that you don't have to go through the escrip.com site first. (And while you're on their website, don't forget to register your Safeway Club card and/or your credit cards and debit cards and designate Roosevelt as your school).
YMCA Holiday Camps…
For the December holiday break, the YMCA is offering a holiday camp. The camp is available for Grades K-8 (Ages 5-13) from 7:30am – 6:00pm. Weekly and Daily fees are available. For more information, please contact the YMCA at 650-368-4168 or contact Veronica Vega at vvega@ymcasv.org or call 650-257-0119
WinterFest!…
WinterFest! will be on December 18th and December 19th this year and will be held at Penninsula Covenent Church (PCC) at 3560 Farm Hill Blvd. Because Roosevelt now has over 550 students, WinterFest! is going to be held on two dates and at two different times on December 18th to accommodate everyone. December 18 at 5:30 will feature performances by grades – Kinder, 2 and 6 and and December 18 at 7:00 will feature performances by grades – 1 and 7. WinterFest! on December 19 at 6:00pm will feature performances by grades 3, 4 & 5.  For those that don't know what WinterFest! is, it's Roosevelt's annual holiday performance. The children in each grade will be practicing a song or skit over the next weeks to perform on their assigned night of WinterFest!
Please note: Volunteers are needed at each WinterFest! event to hand out programs as families are walking in and pass out candy canes as families are leaving. About 6 volunteers are needed for each time slot. For the December 18th 5:30 performance Kinder families are being asked to volunteer. For the December 18th 7:00pm performance, 7th grade families are asked to volunteer and for the December 19th 6:00pm performance, 3rd grade families are asked to volunteer.
On the Parent Blog…
A lot of pictures will be going up on the blog from almost every grade level over the coming week, so be sure to keep checking this week for updates to your child's grade level page. If you have any pictures or student work that you'd like to send in to be posted on the blog let us know. And don't forget, for the most accurate information throughout the week, check out the parent blog. www.rooseveltparents.com
Holiday Gift Store…
The holidays are just around the corner and this year we're trying something new – a Holiday Gift Store! This will be run much like the book fair. An outside company will be coming in with items that will be set up in the Holiday Store. Students (and parents) will be able to shop for gifts for family members and friends for the holidays. More information will be coming home in this week. 6th grade families and Ms. Viera's SDC class parents have been assigned to help with this event, so look for sign up sheets.
Box Tops Contest…
We ended our contest and are turning in 3196 Box Tops to to General Mills – for a total of $319! Keep Collecting those Box Tops through the holidays and beyond! The next contest will be held in spring 2013 so tell family and friends to collect Box Tops for you. Ms. Casale's class won the contest with 459 boxtops – the runners up were Ms. Boone's class with 393, Mr. Williams' class with 347, and Mrs. Novikoff's class with 303 and Mrs. Washburn's class with 240. The students in Ms. Casale's class won an ice cream party.
"Like" us on Facebook…
The district created a Facebook page for every school in the district. Please be sure to "Like" the Roosevelt page to get school and district updates and pictures from Roosevelt school events in your news feed. http://www.facebook.com/pages/Roosevelt-Elementary-School/214259038634327
Trivia Question Answer…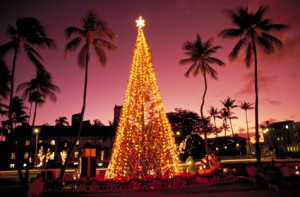 The correct answer is a. True.  And while we're at it, here's some more trivia for you: The Hawaiian people did not celebrate Christmas prior to the arrival of Captain Cook in 1778. It was, however, the protestant missionaries from New England who first arrived in 1820 who first introduced Christmas to the Hawaiian people. The missionaries reduced the Hawaiian language to written form, enabling the Hawaiian people to read and write in their own language. Many words for which there were no clear Hawaiian language equivalents were translated phonetically.
Let's look at some key phrases that you may hear in Hawaii during the Christmas and New Year's Day holiday season.
Mele Kalikimaka – Merry Christmas. The words "Mele Kalikimaka" are a phonetic translation. When the missionaries and other Westerners first brought the custom of Christmas to the islands the Hawaiians had difficulty pronouncing Merry Christmas and turned it into words that rolled more easily off their tongues.
Hau'oli Makahiki Hou – Happy New Year. The western Christmas and New Year fell during this same time of the year that the Hawaiians traditionally honored the earth for giving them plenty to eat. This period of resting and feasting was called Makahiki (mah-kah-HEE- kee). It lasted for 4 months, and no wars or conflicts were allowed during this time. Because makahiki also means "year", the Hawaiian phrase for "Happy New Year" became "Hau'oli (happy) Makahiki (year) Hou (new)"(how-OH-lee mah-kah-hee-kee ho).
Mele Kalikimaka me ka Hau'oli Makahiki Hou – Merry Christmas and a Happy New Year.
Mahalo Nui Loa – Thank you very much. When you receive a nice gift or are treated to a special meal or beautiful song, you'll want to express your appreciation for the kindness.
Make sure to come and participate in the Hometown Holidays parade as Roosevelt does it Hawaiian style! Mahalo Nui Loa!
Have a great week!
---

Advertising helps supplement this free website by DigitalPTO.com | Disable Ads Here