Make sure to mark your calendars for the following events at Roosevelt this week:
Tuesday, December 18
WinterFest! Grades K, 2 & 6 at 5:30pm — Grades 1 & 7 at 7:00pm
Wednesday, December 19
WinterFest! Grades 3, 4 & 5 at 6:00pm
Friday, December 21
No School – Begin Winter Break
Important Dates…
December 24 – Jan 4 – No School – Winter Break
January 7 – Classes Resume
January 8 – Free dress for students that performed for WinterFest
Trivia Question…
In honor of the WinterFest concerts this week, here's an easy one. In the popular Christmas carol, The Twelve Days of Christmas, what new item was sent on the 12th day?
a. drummers drumming
b. geese a laying
c. lords a leaping
Make your guess and find out if you're right at the bottom!
WinterFest!…
WinterFest! is being held at Penninsula Covenent Church (PCC) at 3560 Farm Hill Blvd. December 18 at 5:30 will feature performances by grades – Kinder, 2 and 6 and and December 18 at 7:00 will feature performances by grades – 1 and 7. WinterFest! on December 19 at 6:00pm will feature performances by grades 3, 4 & 5.
Please note: Volunteers are needed at each WinterFest! event to hand out programs as families are walking in and pass out candy canes as families are leaving. About 6 volunteers are needed for each time slot. For the December 18th 5:30 performance Kinder families are being asked to volunteer. For the December 18th 7:00pm performance, 7th grade families are asked to volunteer and for the December 19th 6:00pm performance, 3rd grade families are asked to volunteer.
Roosevelt Snack Shack…
Every year, the PTA hears complaints about the ice cream truck selling to the Roosevelt students every afternoon outside the school gate. Unfortunately, because the curb and sidewalk are public property, the ice cream truck has the right to sell at that location. BUT the PTA and 5th grade students have joined forces and are opening a snack shack after school. The 5th graders will be running the store under the supervision of Mr. Williams and Ms. Novikoff. The students will be responsible for selling the snacks, inventory, reordering items, etc. The snacks being sold fall within the dietary guidelines that have to be followed, but still appeal to the students. All items are priced at either $1 or $2. Soon we will offer tickets that parents will be able to purchase that the students can exchange for snack items in the snack shack so that you know that if you're giving your child some money to spend that they can't spend it at the ice cream truck. The snack shack will be open every afternoon for an hour after school in the PTA room which is located next to the YMCA room. All profits made from the snack shack will go towards the 5th grader's Outdoor Education week in May.
Note: the 5th grade parents will be supervising the 5th grade students for the first 30 minutes each afternoon until Mr. Williams or Ms. Novikoff can take over after their classes are dismissed. If you are not a 5th grade parent, but you would like to help out and take on a 30 minute shift on a day that works with your schedule, please contact Mr. Williams at jwilliams@rcsdk8.net
Starbucks Gift Cards…
Our librarian Paulette Elliott cashed in the pennies from the coin drive last month for Starbucks gift cards. She has 14 $20.00 gift cards if anyone would like to buy them from her.  You can either stop by the library, or send her an email at pelliott@rcsdk8.net.
Honey Bear Trees…
If you are buying a fresh Christmas tree this year or need a fresh wreath or garland, Honey Bear Trees in Redwood City on Woodside or in San Carlos on El Camino is donating a percentage of your purchase back to our school. Tell them you are from Roosevelt School at checkout and they will make sure Roosevelt gets a portion of your sale.
Online Shopping to support Roosevelt…
If you're planning on doing any online shopping for the holidays (and all year) here's an option that will support Roosevelt:
Check out the eScrip Online Mall at www.escrip.com and in the upper right hand corner under Shop Today! click on At the Online Mall and it will direct you to their directory of participating stores. Then just shop! You can also download their "Auto Earn" application and it will automatically donate money to our school from participating vendors as you shop online so that you don't have to go through the escrip.com site first. (And while you're on their website, don't forget to register your Safeway Club card and/or your credit cards and debit cards and designate Roosevelt as your school).
On the Parent Blog…
I've posted pictures of the grade 3-7 Dance Around the World performance and I'll be updating the blog as I get pictures and newsletters this week and over the break. If you have any pictures or student work that you'd like to send in to be posted on the blog let us know. And don't forget, for the most accurate information throughout the week, check out the parent blog. www.rooseveltparents.com
Food for Fines…
The Redwood City Public Library is once again offering their Food for Fines program. If you have unpaid library fines, you can bring in non-perishable food donations to any library branch, and they will erase your fines. For more information, visit one of the RWC libraries.

"Like" us on Facebook…
Please be sure to "Like" the Roosevelt page to get school and district updates and pictures from Roosevelt school events in your news feed. http://www.facebook.com/pages/Roosevelt-Elementary-School/214259038634327
Trivia Question Answer…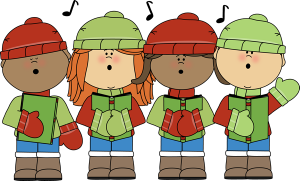 The correct answer is a.drummers drumming. Here's the full round up of the 12 days:
Twelve Drummers Drumming
Eleven Pipers Piping
Ten Lords a Leaping
Nine Ladies Dancing
Eight Maids a Milking
Seven Swans a Swimming
Six Geese a Laying
Five Golden Rings
Four Calling Birds
Three French Hens
Two Turtle Doves
and a Partridge in a Pear Tree
The students have been practicing their performances for weeks so don't forget to come and see them perform at WinterFest!
Have a great week and a wonderful Winter Break!
---

Advertising helps supplement this free website by DigitalPTO.com | Disable Ads Here