Wednesday, January 30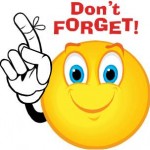 Don't forget that the Restaurant Fundraiser at Pasta Pomodoro  (490 El Camino Real) is today. Roosevelt will receive 20% of sales. Don't forget to bring your flyer!
Thursday, January 31
Please come and meet with Principal Girardi over a cup of coffee and breakfast snacks at 8:00am in Room 1. Hear first hand about district and school news, talk about any issues or concerns you may have or just come for the coffee. This is also a great opportunity to meet other Roosevelt parents! This is a very casual meeting so if you can only drop in for a few minutes, you're still welcome to attend. Spanish translation is available for those that need it. If you have a younger child, you are welcome to bring him/her.
Friday, February 1
Free Dress Friday
Saturday, February 2
Early Kindergarten registration from 9:00am – 1:00pm for the 2013/2014 school year
Paper Product Supplies Needed…
The 6th graders are still making peanut butter and jelly sandwiches for the homeless and they need more sandwich bags, paper plates, paper towels and plastic knives, and also some antibacterial kitchen wipes. Any donations are appreciated and can be dropped off in the school office.
---

Advertising helps supplement this free website by DigitalPTO.com | Disable Ads Here