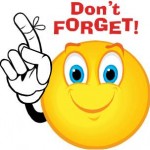 Tomorrow, May 1
Don't forget! Tomorrow is the Teacher & Staff Appreciation Luncheon at 11:45 in Room 14. If you are bringing something for the luncheon, please remember to drop it off in the school office tomorrow morning or bring it to Room 14 by 11:30am. Please remember, we are unable to heat anything up, so if you are bringing an item that needs to be served hot, please bring it already heated at 11:30am. If you are unable to contribute food to the event, you can still send in $5 with your child to cover some of the cost of the food purchased by the PTA. Roosevelt's 3rd grade families and PTA are hosting this event. Thank you to those that have volunteered to help! We can always use more help, so feel free to join us for set up at 8:00am, serving at 11:30am, or clean up at 1:00pm.
Kindergarten has Early Bird Schedule.
Thursday, May 2
Please join us for a Safe Routes to School – Walk & Bike Study from 7:30am-10:00am. We'll meet promptly outside the main office to walk around the school and neighborhood with City staff and a consultant team to assess school commute conditions around Roosevelt School. Information gathered during this meeting will help develop Suggested Walking and Bicycling to School maps as well as develop recommendations to improve walking and bicycling conditions for students around schools.
Your participation will help to identify:
-Suggested routes for walking and biking to school
-How to improve safe school access for all children
-Ways to encourage more children to walk, bike or carpool
Friday, May 3
There are only about 60 tickets still available for the Redwood City Education Foundation's (RCEF) annual benefit to raise money for programs offered at all of the schools in the Redwood City School District. This year, the RCEF is celebrating it's 30th birthday with a great show! Here's your chance to get dressed up and rub elbows with others in the district that care about funding the arts in our schools. This year's benefit is being held at Canada College on Friday, May 3 at 5:30pm. More information is available at www.rcef.org
Testing Reminder…
CST testing has begun for all students in grades 2 – 7 (6th grade students will begin the week of May 6). The CST pep rally is each morning in the cafeteria at 8:00am. Classroom doors are LOCKED from 8:15am – 10:15am for testing. Late students will have to wait in the office, so please get to school on time! During the CST testing window, all students in grades 2-7 are invited to eat a complimentary breakfast in the cafeteria beginning at 7:45am.
Pancake Breakfast at Applebee's…
The order forms will be coming home in this Thursday's folder for Roosevelt's pancake breakfast at Applebee's in Redwood City on Saturday, May 18 from 8:00am – 10:00am. Roosevelt teachers are generously donating their time to be servers. This will be a fun family event! Invite friends, family and neighbors. Tickets only cost $5 each.
Enjoy the rest of your week!
---

Advertising helps supplement this free website by DigitalPTO.com | Disable Ads Here