Chuck E Cheese Tonight…
Don't forget! Today is the restaurant fundraiser at Chuck E Cheese (2541 El Camino) from 3:00pm – 9:00pm. Chuck E Cheese will donate 15% of sales back to Roosevelt. Invite friends and family and help raise more money for Roosevelt!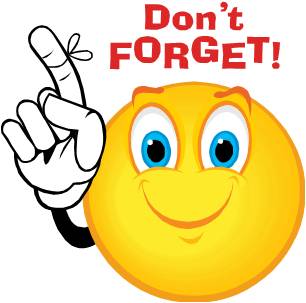 3rd Grade Families…
Don't forget to come to your child's classroom (Room 5 – Ms. Eakin's class Room 4 – Mrs. Parkhurst's class) on Friday at 8:00am. This is the 3rd grade Our PBL Culminating Event is and they are presenting a Student News Broadcast! Students researched different environments to learn about their habitats and animals. They will be informing you (and the world) about how an animal's environment impacts its survival.
Yearbook Cover Contest entries due Friday!
The Yearbook Club, lead by 5th grade teacher Mr. Williams, is having a cover contest for this year's yearbook. Students may submit their cover idea to Mr. Williams or their teacher by November 22. Submissions must be done on white paper and must include the Roosevelt mascot (raccoon), the school year (2013/2014) and a colorful original design. The winner will receive a free yearbook – a $20 value!
Student of the Month Assemblies….
Will be held in the school cafeteria this Friday, November 22. Please  contact your child's teacher for the correct time since some classes requested to move their assembly time.
Second Harvest Food Drive…
The student council is sponsoring a food drive for Second Harvest Food Bank, so please bring in any canned goods or non-perisible dry goods by this Friday, to donate to the cause! Let's see how full those donation barrels can get!
Coin Drive for the Philippines…
The 6th graders in Room 10 are collecting change for the victims of Typhoon Haiyan in the Philippines.  Please send any coin donations in with your child to bring to the office or give to their teacher. Thanks!
Hometown Holidays Parade…
Attention Roosevelt Families! It's that time of year and once again, Roosevelt is participating in Redwood City's Hometown Holiday Parade on Saturday, December 7th at 4:30pm in Downtown Redwood City.
We want to be the largest group participating in the parade this year!  We will need as many participants as possible to walk with us.  The theme this year is "Holiday in Lights".  Bring along any light up gear, glow-in-the-dark accessories, and/or neon clothing.  You won't want miss this event! (The Kindergarten parents that are organizing this event will also be purchasing glow-in-the-dark items to pass out to the parade walkers.)
Kindergarten students will stop to perform to a lively version of Jingle Bells during the parade! Immediately following the parade is the tree lighting ceremony at City Hall on Middlefield and then a fireworks show – it's such a fun way to start the season, so please mark your calendars to walk with Roosevelt!
Did You Win?…
And the raffle winners for the drawing at Monday night's PTA meeting are:
iPad Mini – Julie Russo!
Razor scooter – Ivanna Rodriguez!
Navy zippered hoodie – Kathy Kostas!
Movie tickets – Caroline Taylor & Francisca A.!
School logo t-shirts – Rolando Osario, Rachael Richards, Heather Ramsey & Ana Civil!
Congratulations to the winners! You can collect your prizes in the school office or call the office to arrange to have your prize sent home with your child. 369-5597
A BIG thank you to all of the families that have contributed to the PTA's Enrichment Fund! The PTA has lofty goals this year and still wants to fund so much more — an after school chess club, Spanish classes, more dance classes, a spring musical, and much, much more! We need the support of ALL of our parents to make it happen!
Next Week…
Monday, November 25 & Tuesday, November 26 are both no school days. If you haven't arranged a time with your child's teacher for a Parent/Teacher conference, please do so ASAP!
The Thanksgiving Holiday means no school on November 27, 28 & 29.
And finally…
We're in Kindergarten Tour season, and our best ambassadors for Roosevelt are our current parents. Please consider writing a review on www.greatschools.com
Have a wonderful Thanksgiving! School resumes on Monday, December 2!
---

Advertising helps supplement this free website by DigitalPTO.com | Disable Ads Here