Pajama Day Friday…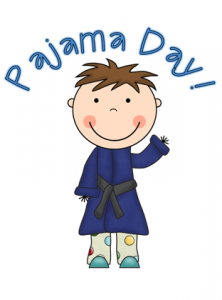 Tomorrow is Pajama Day at Roosevelt! Students may wear their pajamas to school.
Minimum Day Schedule…
Please remember that tomorrow, Friday, December 20 is Early Bird dismissal for all Kinders, 1:00pm dismissal for grades 1 -2 and 1:20 dismissal for grades 3 – 8.
YMCA After School Program…
There is currently space available in Roosevelt's onsite YMCA after school program. Spaces are limited — first come first served. Please pickup a packet in the YMCA room. Contact Veronica Vega with any Questions, 650-257-0119, vvega@ymcasv.org
YMCA Job Openings…
The YMCA has openings for dedicated, committed Leaders for Roosevelt's After School program.  Learn leadership, receive training, and develop transferable skills while you help others.  You will work with caring professionals, diverse in backgrounds and skills, who are committed to the community at large.  Multiple positions are available, shift is M-F 1:30pm-6pm (22hrs/week), starting pay is $12/hr+ DOE, receive a free Bay Area YMCA Membership. Must apply online at www.ymcasv.org/jobs, select After School Leader and specify "Sequoia YMCA" as a preferred location.  Questions? Contact Veronica Vega at 650-257-0119 or vvega@ymcasv.org. SHARE WITH A FRIEND OR ANYONE YOU THINK THAT MAY BE INTERESTED.
Yard Duty Substitutes Needed…
If you are interested in being a Yard Duty substitute, please stop by or call the school office at 369-5597.  The regular shift is from 11:10 – 1:10, Monday – Friday and pays $12 per hour. You will be called in the event one of the regular yard duty personnel needs to be absent.
Congratulations BizWorld Team!…
Roosevelt's BizWorld Champions from last year competed again on Wednesday at BizWorld's annual "Riskmaster" Luncheon in San Francisco. Our team competed against North Star Academy and St. Mary's School of Los Gatos.
The three teams were challenged to sell their friendship bracelets to the attendees, answer questions by the event organizers to demonstrate their business knowledge, and show a short video/commercial about their team to persuade the attendees to vote for their team.
The winners were determined by the number of votes (donations to a particular team made via text) and by the amount of money collected from bracelet sales. Roosevelt's team came in 1st place and was awarded a check for $1,000!
Congratulations to 5th grade teacher Jason Williams and team members Caroline T. (CEO), Maria C. (VP of Design), Araid B. (VP of Marketing & Manufacturing), Anthony C. (VP of Finance), and Hugo G. (VP of Sales)!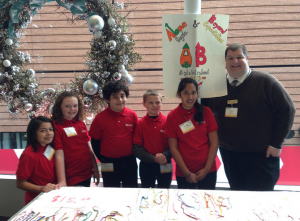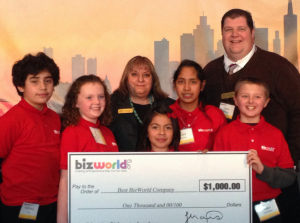 ---

Advertising helps supplement this free website by DigitalPTO.com | Disable Ads Here