Johnny Rockets Tonight…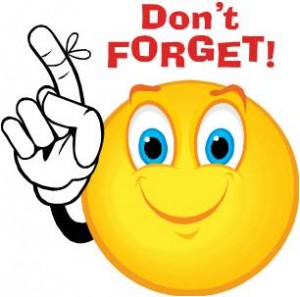 Restaurant fundraiser night! Johnny Rockets in Sequoia Station will donate 20% of net sales back to Roosevelt. Please remember to bring the pink flyer that came home on Tuesday. Extra flyers will be available in the school office until 3:30pm today. We hope to see you there!
6th Grade Parents…
Today (Wednesday) was the last day to pay the final installment for the April Yosemite trip. Please call the office ASAP if you still need to pay. The total amount to be paid is $250.
After School Sports – Soccer…
The registration deadline for soccer for 6th, 7th & 8th graders (Boys & Girls) is Thursday, February 27 / Cost: $65. Registration forms are available in the school office or go to www.teamsideline.com/redwoodcity and select Spring Sports.
Please note: Any t-shirts given to players/participants for this activity are acceptable to wear as school uniform shirts.
Friday, February 28
Cancer Awareness Day – wear pink! Over 8 million people in the United States have been diagnosed with some form of cancer in their lifetime. Almost 2 million people are diagnosed each year with some form of cancer and 1 in 8 women will develop breast cancer in their lifetime.  Please have your child wear as much pink as possible or any other t-shirts that support the cause (like Race for the Cure, etc).  Any item of clothing must be pink in order to wear free dress (shirt, pants, skirt, etc.) Students not wearing pink must be in full uniform.
Student Council will be distributing enough ribbons and pins for students to wear during the day to show their support.
8th Grade Hoodies…
Friday, February 28 is the last day to purchase an 8th grade Class of 2014 hoodie at the reduced price of $22. Orders placed next week will cost $25. The sweatshirt has Roosevelt Class of 2014 on the front and the names of all of the 8th graders on the back. This is a single run, so orders will not be accepted after March 7.

BoxTops…
Please turn in your February BoxTops collection sheet by Friday, February 28.
Princess Ball…
Monday, March 3 is the last day of ticket sales for the Princess Ball! Cost is $5 per person. Girls can invite a very important person (VIP) to attend with them.
---

Advertising helps supplement this free website by DigitalPTO.com | Disable Ads Here