Mark your calenders for the following events at Roosevelt: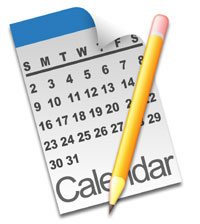 Please Note: The countdown is on and there are only 6 weeks left of this school year! Events are constantly added to the list of Important Dates, so make sure you check each week. The most updated information can always be found on the parent blog, so check this page often!
Vote!: Don't forget to vote everyday for Roosevelt teacher Sarah Coyle at www.csnbayarea.com/allstarteacher (more details below)
Monday, April 28
Grades 2 – 4 order forms due to pre-order books for author visit on May 7. Author Andy Griffiths is coming to Roosevelt to talk about his Treehouse series books. Students may pre-order  26 Story Treehouse, 13 Story Treehouse, Cat on the Mat is Flat, Big Fat Cow Goes Kapow or The Day My Butt Went Psycho. For every $200 spent, The Reading Bug will donate $12 in BugBucks to our school library.
Tuesday, April 29
Families are invited to attend Roosevelt's Dr. Seuss Night at 6:00pm – 7:30pm in the Cafeteria. Do you know the science behind Seuss? Explore the crazy contraptions and wacky adventures in books by Dr. Seuss. Families will be able to enjoy a night of experiments and activities that will bring the adventures of Seuss books to life!
Wednesday, April 30
This is the last day to pre-order the school yearbook for  $25!  Mr. Williams' after school yearbook club has been working on the yearbook for most of the year and it will be filled with lots of pictures of all of the activities throughout the year.  After May 1, the cost for each yearbook will be $30. Please make checks payable to Roosevelt PTA.  Return your order form with your payment to your child's class or bring it in to the school office. Extra order forms are available in the school office.
Games 2 U van arriving for students with highest candy sales for the Spring/Easter fundraiser. Qualifying students will be called down to the office when the game van arrives.
Friday, May 2
Free Dress Friday!
8th grade field trip to The Tech Museum
Important Dates…
May 7 – Author Visit for grades 2 – 4 — Andy Griffiths author of 26 Story Treehouse
May 7 – Teacher Appreciation Lunch (more information below)
May 12 – Reading Fair entries may be dropped off
May 13 – Reading Fair entries due! Presentation boards may be dropped off from 7:45-8:00am in the cafeteria
May 13 – Roosevelt's Reading Fair at 6:00pm in the Cafeteria
May 16 – Outdoor Movie Night!
May 19 – 5th graders leave for Outdoor Education
May 19 – Rehearsal at Sequoia High School for Instrumental Music students
May 19 – Kent Award Dinner – Mr. Williams receiving 2014 Kent Award from San Mateo County School Boards Association
May 20 – Olympic gold medalist Kristi Yamaguchi coming to Roosevelt to read to Kinder & TK
May 20 – PTA Meeting at 6:00pm in Room 14 — Last PTA meeting of the year!
May 20 – Annual Instrumental Music Festival at Sequoia High School Auditorium at 6:30pm
May 22 – Restaurant Fundraiser at Chuck E Cheese
May 26 – Memorial Day Holiday – No School
May 29 – Open House / Art Show
May 30 – Kindergarten field trip to Happy Hollow Park & Zoo
June 1 – Last day to vote for Sarah Coyle for the All-Star Teacher award (details below)
June 2 – 5 – Last week of school – Minimum Days
June 2 – Spirit Day – Hat Day (silly or normal baseball hats, etc)
June 2 – AR Banquet for students that made all 3 AR goals
June 3 – Spirit Day – Crazy Clash Day (wearing stripes with polka dots, backwards, inside out, etc)
June 4 – Spirit Day – Twin Day (dressing the same as another person, or group of people)
June 5 – Spirit Day – Formal Day (dressing nice as a final send-off to our 8th graders)
June 5 – 8th grade graduation at MIT
June 6 – Free Dress Day
June 6 – Last Day of School! Super Minimum Day – all grades dismissed at 12:00
Vote for 7th grade teacher Sarah Coyle…
Congratulations Roosevelt 7th grade teacher Sarah Coyle who has been nominated as one of only 5 Bay Area teachers for an All-Star Teacher award!  If Sarah wins, Roosevelt will receive $20,000!  The winning teacher is the one who receives the most votes.  Sarah is an exceptional teacher and truly an asset to Roosevelt. She has given her all to her students and now we have a chance to show her some support.
You can support Sarah and Roosevelt by voting once per day until June 1 at:
– Visit www.csnbayarea.com/allstarteacher
– Fill out the information in the VOTE NOW box and press Submit
– You are allowed to vote once per day!
– Students may also vote, but they need parent permission
Note: Unfortunately, voting is not supported for smartphones.

This is posted this on Roosevelt's Facebook page — www.facebook.com/RooseveltElementarySchool – PLEASE share it on your own Facebook page and ask for friends and family to help with voting.
Reading Fair…
Families that attended the Pizza & Prep Night on April 1 found out about an exciting event happening on May 13. Roosevelt will be hosting it's first ever Reading Fair! What is a Reading Fair? This is a chance for students to creatively share one of their favorite books to the rest of the school. Students will be able to show their knowledge of the parts of a book and the components of a story. Grades K – 2 have been working on their project boards as a class, but ALL students may enter the reading fair. Winning projects will receive prizes! If your child would like to enter, please stop by the office to pick up a FREE starter kit — instructions, tri-fold presentation board, glue, markers & construction paper. There are only a few free starter kits left, so pick yours up before they're all gone! To see some examples online of reading fair projects, check out this link of some Reading Fair images.
5th Grade Families…
The week of Outdoor Education is almost here! Please send in your payments now for the week of Outdoor Education May 19 – May 22. As with other field trips and events throughout the year, the PTA can't fund the entire trip for the 5th grade so we need parent contributions  to make this trip happen.
Fundraising…
If you have already donated your $100 per child to the PTA, you will be entered into another raffle offering an AMAZING prize! Here's another hint: "do you have a passport?"  Now add that to the first hint of "warm sandy beaches"… What could this prize be? Any guesses? The first 5 guesses will win a Raccoon buck! Email trishreillytaylor@gmail.com with your guess!
If you just can't possibly guess, don't despair, details will be coming home in a flyer this week!
If you haven't already paid your $100, it's not too late! Checks can be made out to Roosevelt PTA or you may pay by credit card in the school office or use the Donate button on the parent blog at www.rooseveltparents.com
The PTA would once again like to extend their heartfelt thanks to those families that have already contributed $100 and to those that have been making regular payments on their pledged amounts.
Teacher/Staff Appreciation Luncheon…
It's that time again when we say a big "Thank You!" to the teachers and staff of Roosevelt School! The luncheon is scheduled for Wednesday, May 7 in the Staff Room. The PTA is asking for a donation of $5 per family to help pay for the caterer. Please check for flyers coming home with more information.

Yearbooks…
The school yearbook is now available for pre-purchase! Mr. Williams' after school yearbook club has been working on the yearbook for most of the year and it will be filled with lots of pictures of all of the activities throughout the year.  The yearbooks are full color and available for only $25 each if ordered before May 1. After May 1, the cost for each yearbook will be $30. Please make checks payable to Roosevelt PTA.  Return your order form with your payment to your child's class or bring it in to the school office. Extra order forms are available in the school office.
Save the Date for Movie Night!…
Bring your Minions and your blankets and chairs for a fun family school event- ROOSEVELT"S 1st OUTDOOR MOVIE NIGHT!!
Showing : Despicable Me 2
When: Friday May 16th at  6:15-10pm
Come dine at the Taco Food Truck (cost per person TBD)
Enjoy music, a Minion Cake walk and Danny G's afterschool dance performance before the show.
Movie will begin at sunset: 8pm approx.
Enter to win a raffle prize! Popcorn and water $1 and candy $2 for sale. All proceeds to benefit Roosevelt school.
Admission : Free!
We can't wait to see our Roosevelt Families there! Bring friends and enjoy a great evening under the stars.
We need volunteers to help with this event. Please email Kim Schiff at kbschiff@sbcglobal.net
The PTA Needs YOU…
This year, the PTA was able to provide Art, Music, Field Trips, after school Spanish classes, lunch time chess, after school dance classes, Family Fun nights, and so much more! Our PTA board has served the maximum number of terms and so we need people to step up to be the new Roosevelt PTA! This is your opportunity to make a difference at Roosevelt! You can take on one of the board positions alone or with a partner to share the work. This is a great way to get involved and meet other parents at the school.  Please come to Monday night's PTA meeting at 6:00pm in Room 14 to hear more. You may also contact the school office and they will put you in touch with someone from PTA to talk about next year.
Fundraise While You Shop…
Don't forget to scan this week's receipts for Shoparoo, check those Safeway receipts to make sure that Roosevelt is getting your escrip credits and look for Box Tops on anything you bought this week! (A note about Shoparoo: there are other Roosevelt schools in the area – one in Burlingame and one in San Leandro. Please make sure that your points are going to the correct Roosevelt School.)
"Like" us on Facebook…
Please be sure to "Like" the Roosevelt page www.facebook.com/RooseveltElementarySchool
Have a great week!
---

Advertising helps supplement this free website by DigitalPTO.com | Disable Ads Here