Winter Raffle…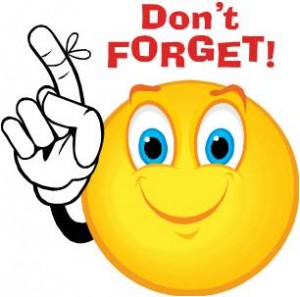 Thursday, December 18 is the last day to turn in your raffle tickets for the REF Winter Raffle! For just $1 per ticket, you have a chance to win some AMAZING prizes!  1st prize is 4 Disneyland Park Hopper passes, 2nd prize is an iPad mini, 3rd prize is an XBOX One, 4th prize is 32″ LCD flat screen TV and there's more! Other prizes include restaurant gift cards, RedBox gift cards, SJ Earthquakes gear, a Kindle and more! This is your chance to win a great prize and help our school! You can get more raffle tickets from the office and the tickets can be sold to friends, family, co-workers, etc.  The drawing will be held after school  so get your tickets turned in! (Winners will be contacted by phone on Thursday and Friday)
This is the last fundraiser until spring, so let's make it count! Good luck!
Second Harvest Food Drive…
Friday, December 19 is the final day to bring in food items for the Second Harvest Food Drive sponsored by Roosevelt's Student Council. Please donate canned goods and other non-perishable items from December 12-19th to help local families this holiday season! Your support will ensure that Second Harvest Food Bank has enough food to provide the 1 in 10 people it serves each month in San Mateo and Santa Clara counties. The Food Bank needs nutritious, non-perishable foods for adults and children: No glass items please! Bring all food items to the Second Harvest bins located in the office, YMCA room and upper campus.
Reading Fair Kits…
If you and your child are interested in this year's Reading Fair, pick up your starter kits before the Winter Break! The starter kits include 1 tri-fold presentation board, 1 set of markers, glue, construction paper and Reading Fair instructions. Please have your student come to the office to pick up an application. All participating students must fill out a signed application to receive a starter kit.
All grade levels may participate! Students in the younger grades may work on this project with their families.
Reading Fair entries are due on Monday, January 12. Judging will be held on the morning of January 13. Ribbons and prizes for the winning entries will be given at the Reading Fair Reception on Tuesday, January 13 at 6:00pm in the Cafeteria.
Friday Early Dismissal…
Don't forget! Friday is Early Dismissal Schedule – All Kinders on Early Bird Schedule (12:10 dismissal), 1st & 2nd grades dismissed at 1:00, Grades 3 – 8 dismissed at 1:20
End of Winter Break…
Classes resume on Tuesday, January 6
Have a great Winter Break!
---

Advertising helps supplement this free website by DigitalPTO.com | Disable Ads Here