Mark your calenders for the following events at Roosevelt: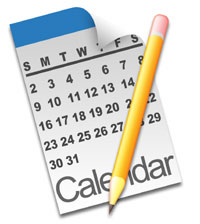 Monday, March 30
Students that turned in their forms indicating if they will be returning to Roosevelt or not for the 2015/2016 school year who already wear Free Dress on Fridays for the World's Finest Chocolate sales may wear Free Dress on Monday, March 30.
AIM High Director Visit to grades 5-7

PTA Meeting at 6:00pm in Room 14.  The PTA will be discussing the status of  the last fundraiser and direct donations fundraising, looking at the PTA's budget and looking for new board members! If you're curious about PTA, please come with any questions! All are welcome to attend and Spanish translation is available. Free childcare is offered in the YMCA room.
Tuesday, March 31
Free chess lessons during lunch time recess for grades 1 – 8 (Sponsored by Roosevelt PTA – thanks to parent donations to the Roosevelt Enrichment Fund)
FEI – Navigating Middle School/Teen Success (8th of 8 week series) at 6:00pm in Room 14 for parents of students in grades 5-8.  (Sponsored by Foothill College's Family Engagement Institute)
Wednesday, April 1
Do you love to garden? Or do you just love being out in the garden on a sunny day? Then please join us for Open Garden Wednesday! We would love more parents and the kids had a great time a few weeks ago – we weeded, planted, and are gearing up for spring.  Any ideas or thoughts for planting and helping hands are always appreciated. If interested, please contact Megan Goulden at megan.goulden@gmail.com or come by the school garden after 11:00am on Wednesday.

Music for Minors parent event at 12:20 in Room 30
Thursday, April 2
PBL Expert Speaker in 5th grade

Friday, April 3
No School
Important Dates…
April 7 – Family Science Night: Science Magic 6:00
April 8 – Spanish for Beginners class begins after school (more info below)
April 10 – Kindergarten Field Trip to Hiller Aviation Museum
April 10 – YMCA Family Night
April 13 – Reclassification ceremony 4:30 at MIT Auditorium
April 13 – Site Council Meeting at 6:00pm in Room 14
April 16 – Talent Show at PCC
April 17 – Minimum Day Schedule
April 20 – 24 – Spring Break
April 30 – Restaurant Fundraiser at Chipotle
May 1 – Benefit for a Brighter Future – RCEF Benefit at 5:30pm at Canada College
May 2 – Mother/Son Event
Spanish Classes…
The next after school Beginning Spanish classes for grades 4-8 starts on Wednesday, April 8. There are only 15 spots available. Cost is $30 for the 6-week session and the class is being taught by Maribel Prado, a local Spanish teacher and tutor. Checks may be made out to Roosevelt PTA and turned in to the school office (cash also accepted). Please email Megan Goulden megan.goulden@gmail.com or Maribel Prado maribelprado84@gmail.com with any questions.
Mother (VIP)/Son Event…
This year, in addition to the Princess Ball, Roosevelt will be hosting an event for the boys of Roosevelt on May 2. The 4th grade is responsible for this event. This event for Roosevelt boys only (just as the Princess Ball was a girls only event), but any parent may volunteer to help.  If you are able to help in any capacity, please email Amber Moeckel at amberdawn519@yahoo.com   Thank you in advance for your help making this a great event!
Art Show Help Needed…
Believe it or not, but the end of the school year is approaching and our Art teacher, Marlene Perez, has Art Show planning on her mind.  She will be needing volunteers to prep, label, install and take down the art show. If you can staple, she needs your help! Please contact Marlene at marlenevperez@comcast.net
Parent Education…
Are you interested in Parent Education Series events in the Sequoia Union High School District? Do you want to stay up-to-date with research and news articles on parenting, teens, college admissions, etc.? You can Like us on Facebook at The Parent Education Series!
RCEF Benefit…
Mark your calendars for the RCEF's Benefit for a Brighter Future event on May 1 at Canada College!
Benefit for a Brighter Future is the Redwood City Education Foundation's premiere fundraising event, generating up to 30% of our annual income. We are fortunate each year to welcome an ever-growing number of Redwood City's top educators, community members, and business leaders for an evening of inspiration, fun, and opportunity. If you would like to sponsor, help with the event, or just learn more, please contact us at: info@rcef.org or phone 650-269-0430. Tickets go on sale on Wednesday, April 1.
Speaking Benefit for a Brighter Future…
Over the years our marvelous BBF committee has dwindled as kids outgrew the district and volunteers moved their energy on to the next deserving project.  The committee is down to a skeleton crew and we need fresh blood, energy, and helping hands to make BBF 2015 as fabulous as in prior years.  The committee has already finished a lot of the early activities (did lot of work going after sponsors, the venue is set, marketing is going well) and now it's fun for the party planning.  Decorations, kids' activities (costumes, how they will interact with the guests, etc), catering, and so forth; it can all be fun if find a group to work on it together as a team.  Plus our theme is a tropical cruise — just think of the opportunities — shuffle board, islands named after sponsors, kids in sailor hats, this is a fun theme! If you're interested in being a part of this effort, please contact Erika Pretell at erika.pretell@gmail.com
Do You Have an iPhone?…
You can now add our parent blog as an app button on your iPhone to make accessing the blog even easier! On your phone, go to www.rooseveltparents.com. Then select the "share" button. Select "Add to Homescreen" then select "Add" – that's it! You should now see a button with a raccoon on your phone's homescreen. Selecting it will automatically open the parent blog!
Have a great week!
---

Advertising helps supplement this free website by DigitalPTO.com | Disable Ads Here