Just a few reminders to finish out your week.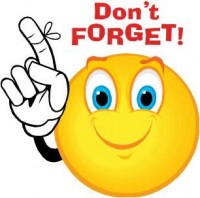 Spring Picture Day…
Wednesday, March 25 is Spring Picture Day. Students may wear Free Dress.
Free Dress Days…
Students who have turned in their forms indicating if they will be returning to Roosevelt or not for the 2015/2016 school year may wear Free Dress on Thursday, March 26 and Friday, March 27. Students who already wear Free Dress on Fridays for the World's Finest Chocolate sales may wear Free Dress on Monday, March 30.
PBL Day!…
All Roosevelt parents are invited to a school tour to see what PBL looks like across grade levels. Come join us on Thursday, March 26 at 8:15am and see PBL in action!
8:15 – 8:45 come visit the Ohlone museum in 3rd grade
8:30 – 9:30 Visit the 4th grade "Invention Convention"
9:15 – 10:00 Kinder will be learning how to do research for their "What do Animals need to live and grow?" unit
9:00 7th grade students will be dissecting flowers as part of their Cell unit.
Saturday, March 28…
Planning meeting for the May 2 boys event at 10 a.m. in room 14. This year, in addition to the Princess Ball, Roosevelt will be hosting an event for the boys of Roosevelt on May 2. This event for Roosevelt boys only (just as the Princess Ball was a girls only event), but any parent may volunteer to help. The 4th grade is responsible for this event. If you are able to help in any capacity, please email Amber Moeckel at amberdawn519@yahoo.com  Thank you in advance for your help making this a great event!
Spanish Classes…
The next after school Beginning Spanish classes for grades 4-8 starts on Wednesday, April 8. There are only 15 spots available. Cost is $30 for the 6-week session and the class is being taught by Maribel Prado, a local Spanish teacher and tutor. Checks may be made out to Roosevelt PTA and turned in to the school office (cash also accepted). Please email Megan Goulden megan.goulden@gmail.com or Maribel Prado maribelprado84@gmail.com with any questions.
---

Advertising helps supplement this free website by DigitalPTO.com | Disable Ads Here