Just a few reminders to finish out the week: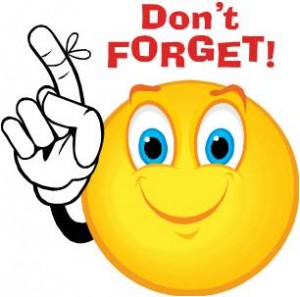 Coffee with Principal Girardi…
Please come and meet with Principal Girardi over a cup of coffee on Wednesday, April 29 at 8:00am in the Upper Staff Room (next to Room 26) Hear first hand about district and school news, talk about any issues or concerns you may have or just come for the coffee. This is also a great opportunity to meet other Roosevelt parents! This is a very casual meeting so if you can only drop in for a few minutes, you're still welcome to attend. Spanish translation is available for those that need it. If you have a younger child, you are welcome to bring him/her.
Tickets for Raccoon Games…
The deadline to reserve tickets for Saturday's Raccoon Games for the boys of Roosevelt has been extended to Thursday, April 30. Please make sure to turn in your forms and $5 per person by the end of the school day.
Free Dress…
Friday, May 1 is Free Dress Friday for all students
RCEF Benefit…
Benefit for a Brighter Future – RCEF Benefit at 5:30pm on Friday, May 1 at Canada College. Tickets are still available at www.benefitforabrighterfuture.org
2015 Raccoon Games…
2015 Raccoon Games begin at 3:00pm with a scavenger hunt! Then it's time for Hamster Ball races at 3:30 followed by more fun and games until 6:00pm.  Only one  special guest per boy is permitted. Tickets will NOT be sold at the door, so get your RSVP in by Thursday.  The 4th grade is responsible for this event but any parent may volunteer to help. Donations for food and drinks are needed.
If possible, please donate any of the following:
Hotdogs
Hotdog buns
Capri sun pouches or juice boxes
Snack size bags of chips
Fruit & Veggie platters
Plastic forks, knives & spoons
Ketchup, mustard & relish
Items may be dropped off in the office during the week.
If you are able to help in any capacity, please email Amber Moeckel at amberdawn519@yahoo.com   Thank you in advance for your help making this a great event!
---

Advertising helps supplement this free website by DigitalPTO.com | Disable Ads Here