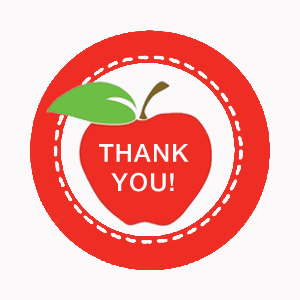 It's that time again when we say a big "Thank You!" to the wonderful, amazing and dedicated teachers and staff of Roosevelt School! This year the PTA and Principal Girardi has set aside the entire week to honor them.
Contributions to the Thursday luncheon are still being accepted! You can send in your $5 with your child, or drop it off in the school office! The PTA would like to thank our generous families for their donations to Thursday's event.
Monday, May 4
Please bring a flower for your teacher
Tuesday, May 5
Please wear your teacher's favorite color. Students wearing at least one item of clothing of a teacher or staff member's favorite color may wear free dress.
Don't know your teacher's favorite color? Take a look at the list below.
Wednesday, May 6
Please bring a sweet treat for your teacher
Thursday, May 7
Teacher/Staff Appreciation Luncheon. The lunch is scheduled to start at approximately 11:30am in  the Staff Room (Room 14). If you would like to help out, the room set up will start around 11:00am and then clean up is at 1:30pm. Please contact Joanne Dunbar at dunbear@sbcglobal.net if you have any questions.
Friday, May 8
Please bring in a thank you, drawing or poem to show your appreciation
Favorite Colors:
We've asked the teachers to let us know what their favorite color is. As we receive responses, their color preference will be added here.
Transitional Kindergarten:
Lisa Bamberger – green
Kindergarten:
Maya Mallari – green
Jennifer Torres – navy blue, brown or orange
Nu Tsutsui – blue
1st Grade:
Sara Christensen – magenta
Shari Tsuchiyama – blue
2nd Grade:
Deborah Hinojosa – blue
Mary Washburn – blue and green
Maureen McPeek – green
3rd Grade:
Whitney Eakin – purple
Ashley Litchenstein – light purple
Erin C. Weindel – orange or yellow
4th Grade:
Lydia Kroos – coral/salmon or yellow
Lindsay Gomez – turquoise
5th Grade:
Sue Novikoff – blue
Lily O'Connor – teal
6th Grade:
Jacqueline Le – yellow
Tony Barreto – blue
Chris Holm – green
7th Grade:
Julie Gordon – green
Sarah Coyle – purple
8th Grade:
Adam Weis – green
Jan Marsh – green
SDC:
Florence Srinivasan – green
Karen Bates – green
Mia Casale – yellow
Staff:
Patricia Girardi – red
Gwen Thomas – purple
Tracy DaCosta – cobalt blue
Paulette Elliott – turquoise or black
Nancy Stevenson-Smith – bright yellow
Vicki Benavente – purple
Heather Irani – green
---

Advertising helps supplement this free website by DigitalPTO.com | Disable Ads Here