Please Note: The countdown is on and there are only 4 weeks left of this school year!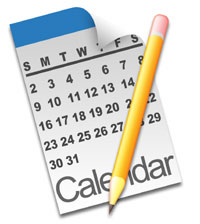 Events are constantly added to the list of Important Dates, so make sure you check each week. The most updated information can always be found on the parent blog, so check www.rooseveltparents.com often!
Mark your calendars for the following events:
Monday, May 11
PBL Tour Day – Roosevelt's PBL lessons are being observed by SMCOE (San Mateo County Office of Education) and Castro School in Mountain View
Tuesday, May 12
1st grade field trip to SF Zoo
Free chess lessons during lunch time recess for grades 1 – 8 (Sponsored by Roosevelt PTA – thanks to parent donations to the Roosevelt Enrichment Fund)

Restaurant Fundraiser! McDonalds on Chestnut Street
SPARK Discovery Night for SPARK students and their families at 6:00pm in the Cafeteria
Wednesday, May 13
Last day to RSVP for the AR Blast Off Awards Banquet!  If your child made all 3 AR reading goals this year, you should have received an invitation to the May 19th Banquet. Please turn in the RSVP form that came home with your child. (more information below)
4th grade field trip to Mission San Juan Bautista
6th grade Orientation at 6:00pm for 5th grade parents and their children entering 6th grade next year
Friday, May 15
Bring your blankets and chairs for a fun family school event- ROOSEVELT"S 2nd ANNUAL OUTDOOR MOVIE NIGHT presenting Big Hero 6!! The festivities begin at  6:00pm. There will be a Food Truck on site and snacks will also be for sale by PTA. All proceeds to benefit Roosevelt school. Movie will begin at sunset: 8pm approx.  Admission : Free!
We can't wait to see our Roosevelt Families there! Bring friends and enjoy a great evening under the stars for our last Family Fun Night of the school year!

Please note: At the end of the movie, we ask that you help to keep our school's campus clean and pick up any litter. Thank you!
Important Dates…
May 18 – Instrumental Music Festival at Carrington Hall – Sequoia High School at 6:00pm
May 19 – 3rd grade virtual field trip with California Academy of Science
May 19 – AR Blast Off! Banquet at 6:00pm
May 20 – Parent Coffee at 8:00am in Room 1
May 20 – Art Show Set-up begins – Volunteers needed! (See below for more information)
May 21 – 8th grade Amusement Park Physics PBL presentation at 8:30am
May 21 – 4th Grade field trip to Red Morton Park for Make Time for Fitness event
May 21 – Art Show opens at 5:30pm & Open House
May 22 – Last day to turn in BoxTops for the classroom BoxTop Challenge
May 22 – Art Show take down
May 25 – Memorial Day – No School
May 25 – 6th graders leave for Yosemite
May 26 – Last PTA Meeting of the Year at 6:00pm! 1st Graders performing
May 27 – Open Garden at Lunch Recess
May 29 – 5th grade DARE Graduation at 8:00am
May 29 – Rm 6a picnic at Red Morton
May 29 – 6th graders return from Yosemite
June 1 – Begin Minimum Day schedule (all Kinders on Early Bird Schedule)
June 1 – 7th Grade field trip to Marine Science Institute (meet at MSI dock at 7:30am – parents must arrange for transportation)
June 1 – 8th grade graduation practice at MIT at 9:45
June 1 – Kindergarten field trip to Happy Hollow Zoo
June 2 – Incoming Kindergarten Meet & Greet event at 3:00pm for incoming Kinders for 2015/2016
June 2 – 2nd grade picnic to Red Morton
June 2 – 8th grade graduation practice at MIT at 9:45
June 2 – 6th grade field trip to Computer History Museum
June 3 – Kindergarten PBL Presentations at 8:00am followed by a Cereal Reception
June 3 – Kindergarten Farewell Festival at 10:00am
June 3 – Final 8th grade graduation practice at MIT at 9:45
June 3 – 8th grade graduation at MIT Auditorium at 6:00pm
June 4 – Field Day
June 4 – 8th grade Pool Party at PCC
June 5 – Last Day of School! – Super Minimum Day – all classes released at 12:00 noon
June 8 – Peninsula Writers Camp begins
June 15 – Y Reader Program begins
June 22 – AIM High Summer School begins
Meet RCSD…
If you haven't "Liked" Roosevelt's Facebook page then you might have missed Roosevelt's librarian, Paulette Elliott on a segment called Meet RCSD! https://youtu.be/qNyuL7s3IrA
The district has recently launched a video series called "Meet RCSD" which showcase teachers, staff, parents and students. Several interviews were done at Roosevelt, so keep a look out for those. If you like Roosevelt's Facebook page, you'll see all of them or you can subscribe to the district's YouTube channel.
Roosevelt Facebook page: www.facebook.com/RooseveltElementarySchool
RCSD YouTube Channel: www.youtube.com/channel/UCEwgOZXTj1Vl1Ef6RHpm7Uw
Outdoor Movie Night!…
Come and join the fun of watching Big Hero 6 under the stars on an outdoor movie screen on Friday, May 15. The food truck will arrive at 6:00pm and the movie will start when the sun goes down (approximately 8:00pm). The movie is FREE and food and snacks will be available for purchase. Please bring camping chairs, blankets and warm clothes. 1st grade families are asked to volunteer for this event. Currently, help is needed with the food truck. Please contact Melanie Centeno at melanieandrodney@yahoo.com
AR Banquet…
What is the AR Banquet? Who is invited to attend?  The AR Banquet is for students in grades 2-8 who have met their Accelerated Reader goal all three times during the year. (Students in Kinder and 1st grades begin the AR Reading Program as soon as they reach Level 10 in Reading.) The reading goals are determined after each student takes an assessment test to determine both a reading level and a points goal. Each book in the school library and in the classrooms has been leveled and assigned points as determined by the Accelerated Reader system. Students must read books at their level and take online quizzes. Once a quiz is passed, the student earns points associated with that book title. The Accelerated Reader computer system keeps track of each student's progress. Roosevelt's librarian and teachers are able to see how each student is doing towards their individually assigned goal. Students that make their AR goal are rewarded at the end of each goal period and all students that make their goal for all three goal periods are invited to attend the AR Banquet that is hosted by Principal Girardi, Assistant Principal DaCosta and the Roosevelt teachers.
Art Show Help Needed…
The end of the school year is approaching and our Art teacher, Marlene Perez, has planning for the May 21 Art Show on her mind.  She will be needing volunteers before the event to prep, label, and install the art and then more volunteers on May 22 to take it all down. If you can staple, she needs your help! No other skills required! Please return the volunteer form that came home in Thursday's folder or contact Marlene at marlenevperez@comcast.net
School Garden…
Looking for a way to get outside on one of  these beautiful sunny days and help our kids get back to nature at the same time? Please join the garden volunteer group.  We really need more volunteers to get the students out into our newly remodeled garden. We need help with our Open Garden lunch sessions and/or tending the garden after school, on weekends or during school breaks.  It will only take a couple of hours a month.  Or, come up with your own volunteer garden ideas and we'll help you make it happen.  Please return the volunteer form that came home in Thursday's folder or email Megan Goulden at megan.goulden@gmail.com for more information.
BoxTops Challenge!…
This is the last BoxTops Challenge of the year! This challenge is between Classrooms! Bring in your BoxTops between April 27 and May 22. Make sure you let us know what Room # gets the credit for your entry. The classroom that has collected the most BoxTops will win a prize! Good luck!
Have a great week!
---

Advertising helps supplement this free website by DigitalPTO.com | Disable Ads Here