Just some final reminders to finish out the week: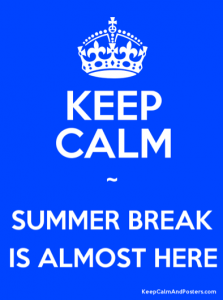 Kindergarten…
The Kindergarten classes will be giving their PBL Presentations on Wednesday, June 3 at 8:00am followed by a Cereal Reception. Then, at 10:00am, they will celebrate the end of Kindergarten with a Farewell Festival.
After the Farewell Festival Kindergarten families are encouraged to come downstairs for the 8th grade hallway walk. (see below for more information)
3rd Grade…
On Thursday, June 4 at 8:20am, the 3rd graders will be presenting their PBL Unit – How the environments of the 7 biomes are changing/affecting animals' adaptations in those regions. Students will be acting as news reporters reporting on the 7 biomes and the climate changes within those regions. Every student will be giving a report on animals within those 7 biomes and any adaptations that the anmimal has had to make in order to survive. *Please make sure your student comes dressed in business attire.
4th Grade…
The 4th grade classrooms will be showcasing what they've learned about California Missions PBL Presentation on Wednesday, June 3 at 8:30am in Rooms 2 & 3. All are welcome to see the Ohlone huts and the giant Missions built in the classrooms. If you're on campus at that time, try to stop by. The kids have done an amazing job!
8th Grade…
The final 8th grade graduation practice is on Wednesday, June 3 at MIT at 9:45am. The students will return to campus at approx 11:20am and they will walk down the main hallway which will be lined with the students from all grades to cheer for the graduating class. If you are on campus, please join the student body for this wonderful tradition.
At 6:00pm on June 3, the 8th grade class will have their graduation ceremone at MIT Auditorium.
The 8th graders will enjoy a Pool Party at PCC on Thursday, June 4 and then a celebratory breakfast on Friday, June 5. The 8th graders are dismissed after their breakfast. Congratulations to Roosevelt's Class of 2015!
Field Day!..
This year's Field Day will be held on Thursday, June 4. Please make sure your child is wearing sunscreen in the morning. Students in grades TK-7 will be participating this year. (8th graders will be at their pool party.) Feel free to come and cheer for your child!
TK & Kinder – 9:00 – 9:45
1st & 2nd Grade – 9:45 – 10:30
3rd Grade – 10:30 – 11:15
4th & 5th Grade – 11:15 – 12:00
6th & 7th Grade – 12:00 – 12:30 with a few more organized activities after lunch
Last Day of School!…
And if you need a reminder, the last day of school is Friday, June 5.  Students may wear Free Dress.
This is a Super Minimum Day – all grades will be dismissed at Noon
Enjoy the rest of your week and Congratulations to all of our 8th grade graduates!
---

Advertising helps supplement this free website by DigitalPTO.com | Disable Ads Here