Mark your calendars for the following events at Roosevelt:
Monday, August 31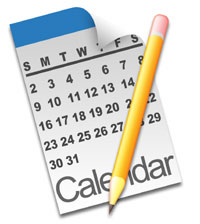 Assembly for grades 6-8 at 9:00am – Kaiser Permanente's "Nightmare on Puberty Street"
Thursday, September 3
5:30pm – 6:00pm – SPARK Info Night for 7 & 8th grade students (and parents) participating in the SPARK program
6:00pm – 7:00pm Back to School Night for grades 5-8
Friday, September 4
Free Dress Friday!
Important Dates…
September 7 – Labor Day Holiday – No School
September 8 – Kindergarten students begin Early Bird/Later Gator schedule
September 14 – Worlds Finest Chocolate Fundraiser begins
September 14 – Site Council Meeting at 6:00pm in Room 14
September 15 – TK – 4th grade Back to School Night at 5:30pm
September 16 – Heals Farm Field Trip – 5th grade/Room 13
September 21 – PTA Meeting at 6:00pm in Room 14
Yard Duty Positions Available…
The school needs 3 or 4 people for yard duty for the 2015/2016 school year. The hours are approximately 11:00am – 1:15pm. For more flexibility, you may sign up for just a few days per week. This is a paid position. If you are interested, please contact Gwen in the school office. You will have to fill out an application with the district and get fingerprinted.
Roosevelt Enrichment Fund…
If you didn't turn in a donation or pledge form at MAZE day, you can still turn one in.  The PTA needs each family to contribute $150 per child for the school year to make their technology goal happen. You can sign up for a monthly contribution for as little as $15 per month.
Checks can be made out to Roosevelt PTA. The PTA also accepts credit cards. Please stop by the office or send your pledge forms in an envelope to school with your child.  Anyone that gives $150 will get a special green t-shirt that your child may wear as uniform, a gift bag and a chance to win an iPad Mini!
After School Sports…
Roosevelt's After School Sports Program is provided by the Redwood City Parks, Recreation & Community Services Department.
Registration forms and complete registration information can be found at www.teamsideline.com/redwoodcity along with all of the information regarding After School Sports. You can also register online at https://apm.activecommunities.com/rwcpark
"Like" us on Facebook…
Please be sure to "Like" the Roosevelt page to get school and district updates and pictures in your news feed.
www.facebook.com/RooseveltElementarySchool
Have a great week!
---

Advertising helps supplement this free website by DigitalPTO.com | Disable Ads Here