Mark your calendars for the following events at Roosevelt: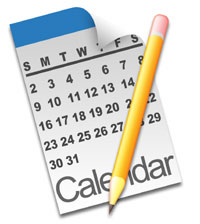 Monday, September 28
End 1st BoxTops Contest! The first BoxTops Challenge ends on Monday, September 28 so please send in those BoxTops! Each BoxTop earns 10¢ for our school, so sending them in will not only help to win the challenge for your student's classroom, but we also earn money for our school.
Tuesday, September 29
Free chess lessons are offered in the YMCA room during lunch time recess for grades 1 – 8  (Sponsored by Roosevelt PTA – thanks to parent donations to the Roosevelt Enrichment Fund)
Students in grades 2, 5 & 7 will be visited by Compass Green Project – a farm truck on wheels. Your child may have seen them on Disney Channel's  Pass the Plate. If anyone is interested in knowing more, they can contact Kristin Palmer, our school garden volunteer coordinator.

Thursday, October 1
5:30 SPARK Match Night (7th & 8th graders in the SPARK program will meet their Google mentors)
Friday, October 2
First Friday Free Dress Day!
Angel Island Field Trip – 4th grade
Important Dates…
October 7 – International Walk to School Day
October 12 – Teacher Training Day/Columbus Day – NO SCHOOL
October 13 – Picture Day! – Free Dress Day
October 12 – Beautiful Day
October 20 – Coffee with Principal Girardi at 8:00am in Room 1
October 26 – PTA Meeting in Room 14 at 6:00pm
October 30 – Halloween Parade at 8:15am
Spirit Wear…
All sizes of Roosevelt spirit wear are back in stock! (For those that pre-ordered spirit wear, it will be sent home with your child.) Spirit wear may be purchased in the school office. Please be aware that the office is quite busy at the start of each school day and at dismissal, so please be patient with our office staff.
World's Finest Chocolate…
This is our school's biggest fundraiser of the year and helps to pay for so many programs offered throughout the year, so we really need parent support! If every family sold just 1 box of chocolate, our school would earn almost $20,000 which would cover the cost of art or almost 2 Chromebook carts.
Please note: Once you sign out a box of chocolate, you are responsible for the full cost of the box. Partially sold boxes cannot be returned to the office! If you are having trouble selling your entire box, PLEASE come by the school office – there may be other families that are willing to purchase some of your chocolate to sell and you can be matched up with those families.
We're getting there…
So far the Enrichment Fund has raised enough to pay for our school's Art teacher, Marlene Perez, free chess lessons every Tuesday, the Girls on the Run program and SMART Boards in more classrooms. The PTA would still like to purchase more technology and have money to offer scholarships to Outdoor Ed for 5th grade and Yosemite for 6th grade and pay for the parent chaperones to Yosemite. In addition to new technology and the 5th & 6th grade trips, any money raised this year will also go towards field trips ($20 per student), supplies for teachers, after school Enrichment and much more!
You can still turn in your $150 donation to the Roosevelt Enrichment Fund to have a chance to win an iPad Mini! The raffle will be held at the November PTA meeting.
Checks can be made out to Roosevelt PTA. The PTA also accepts credit cards. Please stop by the office or send your pledge forms in an envelope to school with your child.  Anyone that gives $150 will get a special green t-shirt that your child may wear as uniform, a gift bag and a chance to win an iPad Mini! (If you have turned in your $150 and have not received your raffle ticket, green shirt or bag, please contact the school office.)
"Like" us on Facebook…
Please be sure to "Like" the Roosevelt page to get school and district updates and pictures from the classrooms in your news feed. www.facebook.com/RooseveltElementarySchool
If you've liked our page but are not seeing any updates in your timeline, you need to start liking or commenting on occasional posts to have them show in your timeline regularly. You can also click on the "Liked" box and in the pull down menu select "Get Notifications".
Have a great week!
---

Advertising helps supplement this free website by DigitalPTO.com | Disable Ads Here