SPARK Info Night…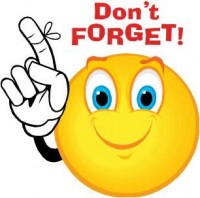 If your 7th or 8th grade student is participating in SPARK this year, you need to attend tonight's information meeting at 5:15pm in the Cafeteria. This program matches students with a mentor that they work with once per week. Students have an opportunity to work with mentors at companies such as Google, Facebook, YouTube, Franklin Templeton, Walmart.com, Sony, etc.
Text messages went out to all parents whose children have been invited to participate in SPARK.
Back to School Night…
Tonight is Back to School Night for grades 5 – 8 at 6:00pm.  Students whose parents attend will receive a free dress pass and a no homework pass!
Free Dress Friday…
Friday, September 4 is the first Friday of the month, so all students may wear free dress.
Please remember that all clothing worn must adhere to the uniform guidelines:
No vulgar or obscene logos, no spaghetti straps or halter tops, shorts and skirts must be fingertip length, etc.
Monday, September 7…
Don't forget that Monday, September 7 is a Labor Day Holiday and all schools and school offices are closed. Classes resume on Tuesday, September 8. (Kindergarten students begin Early Bird/Later Gator schedule)
The weekly reminder email will go out on Monday evening.
Backpacks…
Roosevelt has received a donation of backpacks from PCC. If you need a new backpack for your child, please contact the office.
After School Sports Registration Deadline!…
Registration for Flag Football, Volleyball, Cross Country, and Street Hockey ends TODAY, Thursday 9/3!
Registration forms and complete registration information can be found at www.teamsideline.com/redwoodcity along with all of the information regarding After School Sports. You can register online at https://apm.activecommunities.com/rwcpark or in person at the Red Morton Community Center – 1120 Roosevelt Avenue
---

Advertising helps supplement this free website by DigitalPTO.com | Disable Ads Here