Halloween Parade…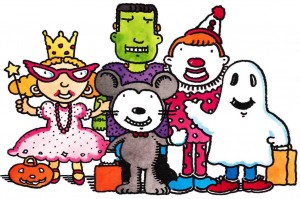 Roosevelt's traditional Halloween Parade will begin at 8:15am! (Kinders are all on Early Bird Schedule) There has been a change for this year. Parents are asked to line up along the sides of the main hallway and the students will parade in their costumes down the hall. Students may come to school in their costumes. There are special activities in the school library during the parade for those students that DO NOT participate in Halloween celebrations, so please still send your child to school.
For those new to Roosevelt, you should know that Roosevelt LOVES Halloween and we go all out! Parents are welcome to join in the fun! Prizes are given in many different categories – best homemade, best makeup, best theme, etc.
Costume rules: no toy weapons and no gore.
Please remember that the students need to change back into their uniforms after the parade, so send them with a bag for their costume and pack a uniform if they are not able to wear it under their costume. Why do we ask students to change? Some costumes restrict mobility or vision which wouldn't be safe. Also, we want to make sure that the costumes go home in the same condition that they were in the morning of the parade.
Class Parties…
Many classes/grades will be having Harvest themed parties at some point during the day. Please check with your child's teacher to see if any food items or supplies are needed.
3rd Grade Field Trip…
Room 5 will be leaving soon after the parade for their field trip to Woodside Store.
Spooktacular Bingo!…
Don't miss out! Come and join in the fun with a night of Spooktacular Bingo at 6:00pm. Our Bingo nights are always so much fun! Who will this year's Bingo callers be? Will our Bingo callers carry on the tradition and come in costume? There's only one way to find out! Come in your costumes or just come as you are – it's a fun night for the whole familiy!
Food and beverages will be for sale during the event as well.
This event is sponsored by the Roosevelt PTA and made possible by contributions from our generous families to the Roosevelt Enrichment Fund.
Please Note: 7th grade families are being asked to help out with this event. Please arrive at least 1/2 hour before the start of the event to help with set up or serving or stay at the end of the event to help with clean up. Call or text Valerie Romero at 346-2445 if you have any questions.
---

Advertising helps supplement this free website by DigitalPTO.com | Disable Ads Here