Mark your calendars for the following events at Roosevelt: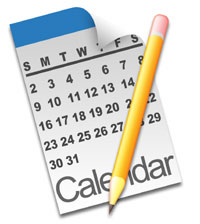 Monday, November 30
Student of the Month Assemblies
PTA Meeting at  6:00pm in Room 14. The PTA will be announcing the winners of the 100%er Raffle and looking at the PTA's budget  for this year. All are welcome to attend and Spanish translation is available. Free childcare is offered in the YMCA room.
Tuesday, December 1
Reading Fair Pizza & Prep Night at 6:00pm in the cafeteria! Have some FREE pizza for dinner and find out about Roosevelt's award winning Reading Fair (to be held on January 26). Families that attend Pizza and Prep Night will be able to pick up a Starter Kit which includes a tri-fold presentation board!
Wednesday, December 2
Expert Visiting 3rd grade: Mr. Ring, a Builder and Structural Engineer will visit rooms 5, 6 and 4 from 9:00am to 11:00am to add to their PBL Unit – "Surviving Mother Nature" – How do humans reduce the impact of natural hazards on their lives?
Thursday, December 3
All Kinders on Early Bird schedule for teacher PBL training
Friday, December 4
First Friday of the Month – Free Dress Friday!
iSing concert in the cafeteria at 2:30pm. (This is our new after school girls choir group.)
Important Dates…
December 7 – SPARK Night
December 9 – WinterFest – Rooms 5 & 20, 23 & 8, 28 & 19, 27 & 17 at 5:30pm
December 9 – WinterFest – Rooms 13 & 30, 6 & 18, 24 & 9, 6a, 4 & 16 at 7:00pm
December 10 – WinterFest – Rooms 29 & 11, 22 & 10, 21 & 2, 3 & 26 at 6:00pm
December 14 – Limo ride for Chocolate Sales
December 17 – 3rd grade traditonal feast
December 17 – 8:20am Natural Disaster PBL Presentations rooms 4, 5 and 6
December 18 – 8:20am Kindergarten PBL Physics Fair
December 18 – Room 6 field trip to the Wood Side Store
December 18 – Super Minimum Day – All classes/grades dismissed at 12:00pm
BoxTops Challenge!…
Start turning in your BoxTops for the next challenge – Boys vs Girls! Who will rule the school? Each BoxTop is worth 10¢ and they add up fast! Look for the challenge form in the Thursday folders or stop by the office and look for the Boys or Girls box to add your BoxTops.
Superintendent's Advisory Council of Parents…
Superintendent Dr. John Baker is forming a Superintendent's Advisory Council of Parents to provide him with information about important issues facing the district.  The group will be comprised of up to 2 parents from each school in the district, and will meet from 6:30-7:30 p.m. on the 3rd Thursday of each month from January-May, 2016. As of November 18, the district hadn't received any applications from Roosevelt parents. Applications are due by December 18. If you're interested, go to http://bit.ly/21nzNLw
"Food for Fines" at the Redwood City Public Library!…
Do you have outstanding library fines? Well, this is your chance to clear your account by simply helping others.
The Redwood City Public Library, in partnership with Second Harvest Food Bank, will accept donated food in place of overdue book fines over the month of December as part of  their "Food for Fines" program.
Anyone with outstanding library fines is invited to deliver nonperishable food items to any Redwood City library during regular business hours. The higher the amount of your unpaid fines, the more food you can donate.
"Like" us on Facebook…
We've been posting a lot more content on our school's Facebook page so be sure to "Like" the Roosevelt page to get school and district updates and pictures from the classrooms in your news feed.www.facebook.com/RooseveltElementarySchool
If you've liked our page but are not seeing any updates in your timeline, you need to start liking or commenting on occasional posts to have them show in your timeline regularly. You can also click on the "Liked" box and in the pull down menu select "Get Notifications".
Have a great week!
---

Advertising helps supplement this free website by DigitalPTO.com | Disable Ads Here