Free Dress Friday…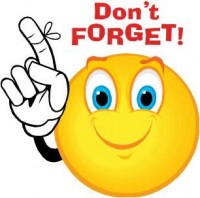 Friday, November 6 is the first Friday of the month and Free Dress Friday for all students!

100%er Raffle…
Friday, November 6 is the last day to get your $150 in to be entered into the Roosevelt Enrichment Fund Raffle! Are you in…to WIN? Families that have turned in their $150 donation to the Roosevelt Enrichment Fund are entered into a drawing for an iPad Mini or have one of the school hallways named after your family! If you are making monthly payments and you pay your $150 pledged amount by Friday before 2:00pm, you will be entered into the raffle. Checks can be made out to Roosevelt PTA or you can pay by credit card in the school office. Will you be one of the lucky winners?
AR Goals…
The first Accelerated Reader (AR) goal period ends next Friday, November 13! Students must have met their 1st reading goal by the end of the school day on Friday the 13th to qualify for the first AR party hosted by our school librarian, Paulette Elliott. Students who have made all three goals for this school year will be invited to the AR Banquet in the spring.  (Students who are reading at a level 10 and up have been assigned an AR goal.)
You can view you child's Accelerated Reader progress online! Renaissance Home Connect is a tool that allows parents to log in to a Web site and view a snapshot of their child's Accelerated Reader progress. That progress includes average percent correct on quizzes, number of points earned, and results on the last quiz. In addition, parents can view all the Accelerated Reader quizzes their child has taken, and can access an online search tool, AR Book Finder, to search for books using various criteria, including author, subject, or reading level. To receive an email when your child has completed an Accelerated Reader Quiz, click the Email Setup link and enter your child's name and up to six email addresses to receive updates.
To log on, go to https://Hosted122.renlearn.com/278977/HomeConnect That will open up a page requesting your child's User Name and Password. Letters went home to parents with this information, but if you don't have it, have your child enter the information. Once you are in the system, you will be able to see the books your child has read and what their progress is towards their point goal. Please note: If the site isn't working for you on your browser, try viewing it on Safari.
Happy reading!
---

Advertising helps supplement this free website by DigitalPTO.com | Disable Ads Here