Mark your calendars for the following events at Roosevelt: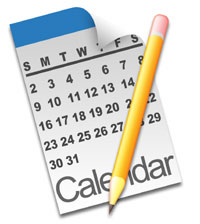 Monday, December 14
Free Dress for students who attended last week's WinterFest!
Limo ride to In-n-Out for students who earned it with he Worlds Finest Chocolate fundraiser
Site Council Meeting at 6:00pm in Room 14.  On the agenda for this month's meeting: Measure W allocation vote, school and district updates, enrollment, and school safety.  All are encouraged to attend and Spanish translation is available.
Tuesday, December 15
Academic Probation meeting at 6:00pm for Middle School Parents in the  staff room
Thursday, December 17
8:20am Natural Disaster PBL Presentations rooms 4, 5 and 6
3rd grade Traditional Feast!
Friday, December 18
8:20am Kindergarten PBL Physics Fair
Room 6 field trip to the Woodside Store
Super Minimum Day – All classes/grades dismissed at 12:00pm (TK and students in the after school YMCA program will have lunch on Friday)
Important Dates…
December 21 – January 1 – Winter Break! – No School
January 4 – Teacher Training Day – No School
January 5 – Classes Resume
Supplies Request…
3rd grade is in need of some supplies for our PBL natural disaster structures we are building for our presentation
Please look for items that you may have around the house that you can donate to them. Please send any materials with your student on Monday, December 14 and Tuesday, December 15. They can be dropped off in the office in care of 3rd grade.
Example items include – wooden blocks, legos (if your child no longer uses them), boxes, empty tin cans, aluminum foil, dixie cups, clean paper milk carton, straws, toilet paper or paper towel rolls (the cardboard core)
Vote for Principal Girardi!…
Ms Girardi is one of only five finalists in the nation for the "Multiplier of the Year Award". The Multiplier of the Year Award is sponsored annually by The Wiseman Group to recognize the world's top leaders and "genius makers." Nominees are based upon their demonstrated ability to channel the intelligence, talent and creativity of their staff. You can vote for Ms. Girardi in the Education category which is located on page 2. Good luck to Principal Girardi!
(You only need to vote once. Their voting system will only count one vote per email address and computer/IP address. So, even if you have multiple email addresses, it will only record one vote if you're voting using the same computer.)
http://multipliersbooks.com/vote-for-the-2015-multiplier-of-the-year/#.Vm0dq2SrQ_V
Spirit Wear…
All sizes of sweat pants and hoodies are now back in stock. Spirit wear may be purchased in the school office. Please be aware that the office is quite busy at the start of each school day and at dismissal, so please be patient with our office staff.
Handwriting After School Class…
Due to the elimination of handwriting from the state standards, students haven't been taught handwriting for the past four years in California. Our PTA thinks that our students should still learn the fundamentals of handwriting so they have added a handwriting class to be offered starting in January after school. The class will begin on January 5 and will be held on Tuesdays & Thursdays after school for 3 weeks. Students must be in 3rd – 6th grade and the class size is limited to the first 20 students that turn in their forms. Look for the flyer in last Thursday's blue folder for more information.
BoxTops Challenge!…
Don't forget to turn in your BoxTops for the next challenge – Boys vs Girls! Who will rule the school? Each BoxTop is worth 10¢ and they add up fast! Look for the challenge form in the Thursday folders or stop by the office and look for the Boys or Girls box to add your BoxTops.
Superintendent's Advisory Council of Parents…
Superintendent Dr. John Baker is forming a Superintendent's Advisory Council of Parents to provide him with information about important issues facing the district.  The group will be comprised of up to 2 parents from each school in the district, and will meet from 6:30-7:30 p.m. on the 3rd Thursday of each month from January-May, 2016. Applications are due by December 18. If you're interested, go to http://bit.ly/21nzNLw
"Food for Fines" at the Redwood City Public Library!…
Do you have outstanding library fines? Well, this is your chance to clear your account by simply helping others.
The Redwood City Public Library, in partnership with Second Harvest Food Bank, will accept donated food in place of overdue book fines over the month of December as part of  their "Food for Fines" program.
Anyone with outstanding library fines is invited to deliver nonperishable food items to any Redwood City library during regular business hours. The higher the amount of your unpaid fines, the more food you can donate.
Lost and Found…
Don't forget to check the Lost and Found cart located in the school office before the holiday break! If your child has lost a sweater, jacket, or lunch box please stop by the office to take a look!
Future Chef Competition!…
Students through 5th grade are invited to enter the Future Chef competition for the 2015/2016 school year. This year students can submit their recipes for their favorite healthy breakfast. Recipes will be collected through January 15, 2016. The contest will be held at Hawes Elementary School on February 25, 2016 from 3:00-5:00 pm. A finalist from each school will be selected to participate in the contest.
Judging will be based on the following criteria: Originality, Kid friendly, Ease of preparation, Healthy attributes, Plate presentation and Taste. All participants will receive a certificate, medal, embroidered chef coat, and chef hat. The winner of the event will then be entered into our National competition. Entry forms are available in the school office.
"Like" us on Facebook…
We've been posting a lot more content on our school's Facebook page so be sure to "Like" the Roosevelt page to get school and district updates and pictures from the classrooms in your news feed.www.facebook.com/RooseveltElementarySchool
If you've liked our page but are not seeing any updates in your timeline, you need to start liking or commenting on occasional posts to have them show in your timeline regularly. You can also click on the "Liked" box and in the pull down menu select "Get Notifications".
Have a great week!
---

Advertising helps supplement this free website by DigitalPTO.com | Disable Ads Here