Mark your calendars for the following events at Roosevelt: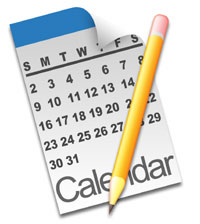 Monday, January 11
Site Council Meeting at 6:00pm in Room 14.  On the agenda for this month's meeting: school and district updates, enrollment, and school safety.  All are encouraged to attend and Spanish translation is available.

Water Conservation Poster contest awards at City Hall at 7:00pm. Congratulations to April Anderson, Valeria Cisneros, and Galilea Lopez on your winning submissions!
Tuesday, January 12
Outdoor Education Meeting for 5th grade parents at 6:00pm
Friday, January 15
Entries due for Future Chef competition (more information below)
Important Dates…
January 18 – Martin Luther King Day – No School
January 22 – Family Movie Night
January 25 – PTA Meeting at 6:00pm in Room 14
January 25 – Reading Fair entries due
January 26 – Reading Fair Night at 5:30pm
Mother/Son Event…
The planning is well under way for this year's Mother/Son Event. They are looking for a large popcorn machine for the event. If anyone has one or knows where they can get one, please contact Amber Moeckel at amberdawn519@yahoo.com
Yard Duty Position Available…
Roosevelt currently has a yard duty position open. The hours are approximately 11:00am – 1:15pm. This is a paid position. If you are interested, please contact Gwen in the school office at 369-5597 or gthomas@rcsdk8.net. You will have to fill out an application with the district and get fingerprinted.
Reading Fair Kits…
If you and your child are interested in this year's Reading Fair, you can still pick up a starter kit! The starter kit includes 1 tri-fold presentation board, 1 set of markers, glue, construction paper and Reading Fair instructions. Please have your student come to the office to pick up an application. All participating students must return a signed application to receive a starter kit.
All grade levels may participate! Students in the younger grades may work on this project with their families.
Reading Fair entries are due on Monday, January 25. Judging will be held on the morning of January 26. Ribbons and prizes for the winning entries will be given at the Reading Fair Reception on Tuesday, January 26 at 5:30pm in the Cafeteria.
Future Chef Competition!…
Students through 5th grade are invited to enter the Future Chef competition for the 2015/2016 school year. This year students can submit their recipes for their favorite healthy breakfast. Recipes will be collected through January 15, 2016. The contest will be held at Hawes Elementary School on February 25, 2016 from 3:00-5:00 pm. A finalist from each school will be selected to participate in the contest.
Judging will be based on the following criteria: Originality, Kid friendly, Ease of preparation, Healthy attributes, Plate presentation and Taste. All participants will receive a certificate, medal, embroidered chef coat, and chef hat. The winner of the event will then be entered into our National competition. Entry forms are available in the school office.
"Like" us on Facebook…
We've been posting a lot more content on our school's Facebook page so be sure to "Like" the Roosevelt page to get school and district updates and pictures from the classrooms in your news feed.www.facebook.com/RooseveltElementarySchool
If you've liked our page but are not seeing any updates in your timeline, you need to start liking or commenting on occasional posts to have them show in your timeline regularly. You can also click on the "Liked" box and in the pull down menu select "Get Notifications".
Have a great week!
---

Advertising helps supplement this free website by DigitalPTO.com | Disable Ads Here