Mark your calendars for the following events at Roosevelt: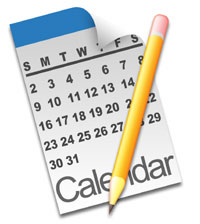 Monday, February 8
Site Council Meeting at 6:00pm in Room 14
Tuesday, February 9
Candy Gram sales after school by Student Council. All proceeds go towards the purchase of clean water for Flint, Michigan. Candy grams are $1 each.
8th Grade Parent Meeting to plan Graduation Activities in Rm 14 at 6:00pm
Wednesday, February 10
Roosevelt Presents at School Board Meeting (more information below)
Thursday, February 11
AR Goal period #2 Ends! (to check your child's progress, go to https://hosted122.renlearn.com/278977/HomeConnect/ and have your child enter their AR username and password)
Order forms and money due for Spring Candy Fundraiser!
6th grade PBL presentation – Egyptian Museum at 8:15 in the Cafeteria
Kinder field trip to Hiller Aviation Museum at 8:45am (all Kinders on Early Bird Schedule)
8th grade College Bound! field trip to Stanford University
Friday, February 12
President's Weekend – No School
Important Dates…
February 15 – President's Weekend – No School
February 16 – 3rd Grade Field Trip to San Mateo County History Museum
February 22 – Black History Assembly
February 22 – PTA Meeting in Room 14 at 6:00pm
February 23 – 4th Grade Field Trip to the Tech Museum
February 23 – Family Science Night – Super Powers! – 6:00pm in the Cafeteria
February 25 – Parent Coffee with Principal Girardi
February 25 – Restaurant Fundraiser
February 26 – 8th Grade Field Trip to UC Santa Cruz
February 26 – Author Visit for grades 3-5 — Margarita Engle
February 29 – Student of the Month Assemblies
March 5 – Princess Ball!
March 14 – March 18 – Parent Teacher Conferences – Minimum Day Schedule
March 23 – Spring Picture Day
March 25 – No School
March 28 – 5th Graders leave for Outdoor Education Week
April 4 – April 8 – Spring Break — No School
April 11 – Classes Resume
Roosevelt Board Report…
Each school is scheduled to make a presentation to the School Board once every 2 years. On February 10 at 7:00pm, it's Roosevelt's turn to present to the School Board. Parents and students are welcome to attend to hear about what Ms. Girardi has planned for Roosevelt and to show your support for our school and teachers. The presentation should last about 30 minutes.
Too Busy to Clip those BoxTops?…
Well, consider this: Last year Roosevelt earned $917.40 from BoxTops. This year we've already earned $766.70! Please remember to keep collecting BoxTops all year. You can wait for a BoxTops contest, or turn them in to your child's teacher or the office at any time during the year.
Parent Volunteers Needed…
We're still looking for parents to work with the different grade levels and chair events because many of our current event chairs will be graduating out of Roosevelt with their student this year or next. Events are assigned to grade levels for the work, but we need people that are willing to direct the volunteers.
The PTA is looking for officers for next year – Secretary, President, Treasurer, etc. All positions will be termed out this year by the current board.  (Positions may be shared by more than one person.) Please contact Principal Girardi if you are interested in any position by calling the office at 369-5597 or pgirardi@rcsdk8.net
And finally, we need help with our school's blog and Facebook account. You can decide your level of help – taking pictures in classrooms to be posted on the blog and Facebook page or writing a weekly update once per month.
Anyone interested in any of the above opportunities should contact the school office.
School Funding Survey…
The new school funding formula (LCFF) by the state requires input from community members for allocating money to programs in the district to better serve students. Please take a few minutes before February 23 to give your input by taking a survery at www.rcsdk8.net/page/5488
"Like" us on Facebook…
We've been posting a lot more content on our school's Facebook page so be sure to "Like" the Roosevelt page to get school and district updates and pictures from the classrooms in your news feed.www.facebook.com/RooseveltElementarySchool
If you've liked our page but are not seeing any updates in your timeline, you need to start liking or commenting on occasional posts to have them show in your timeline regularly. You can also click on the "Liked" box and in the pull down menu select "Get Notifications".
Have a great week!
---

Advertising helps supplement this free website by DigitalPTO.com | Disable Ads Here