Free Dress…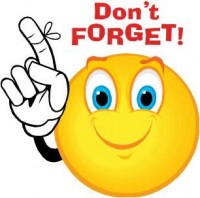 Friday, April 1 is a Free Dress Friday for all students!
Dismissal…
Don't forget that this is a Super Minimum Day! – All grades dismissed at 12:00 noon
AIM High Applications Due…
AIM High  is a summer "bridge" program for students in grades 5-8.  Please contact the school office if you need additional information. Applications must be turned into the office by Friday morning.
Outdoor Education…
5th graders will be returning on Friday afternoon from their week in Jones Gulch for Outdoor Education. Welcome back 5th graders!
Spring Break…
Our Spring Break is next week (April 4 – April 8). The school office will be closed. Classes will resume on Monday, April 11.
Have a great Spring Break!
---

Advertising helps supplement this free website by DigitalPTO.com | Disable Ads Here