Mark your calendars for the following events at Roosevelt: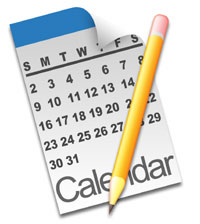 Monday, April 18
Reclassification ceremony 7:30pm at MIT Auditorium for ELL (English Language Learner) students that passed the CELDT (California English Language Development Test) and are now considered English Language proficient. Congratulations to the 60 Roosevelt students that will be reclassifying on Monday!
Tuesday, April 19
7th grade field trip to the historical buildings at 9:00
Cursive class begins after school at 2:30pm for 3rd- 6th graders (more information below)
Wednesday, April 20
Animal Adaptation virtual field trip room 6
Friday, April 22
Parent Coffee at 8:00am in Room 1! Come and enjoy a cup of coffee with the principal! Parents are invited to come and meet with Principal Girardi over a cup of coffee and snacks. Hear first hand about district and school news, talk about any issues or concerns you may have or just come for the coffee. This is a very casual meeting so if you can only drop in for a few minutes, you're still welcome to attend. If you have a younger child, you are welcome to bring him/her. Tell a friend!
TK field trip Common Ground Gardeners
Ising Open House – for 1st grade girls & 2nd and 3rd grade girls currently in Ising and parents
Important Dates…
April 25 – SBAC testing begins for students in grades 3-8
April 28 – End of 3rd AR goal period
May 7 – Mother/Son Event (Please Note: the date on the yellow parent calendar is incorrectly listed as May 2)
May 13 – RCEF Benefit at Canada College (more information below)
May 17 – AR Banquet for students who made all three AR reading goals (date to be confirmed)
May 19 – Art Show – 5:30pm – 7:30pm
May 19 – Open House 6:00pm – 7:00pm
May 23 – 6th grade students leave for their week in Yosemite
May 23 – Spring Instrumental Music Concert at Sequoia High School (Carrington Hall) at 6:30pm
May 30 – Memorial Day – No School
Cursive Writing Class…
Did you know that California eliminated cursive writing in the standards about 4 years ago? Unfortunately, that means that our students can't read or write anything in cursive – or even write their own signature! Roosevelt's PTA asked for an after school class to be taught to students in grades 3-6 and Ms. Girardi delivered! A former Roosevelt teacher will be on site after school on Tuesdays & Thursdays in Room 11 to offer 6 sessions of cursive writing instruction. The cost is $40 per student to pay for the teacher. Please see the flyer that came home in last Thursday's folder for more information and to sign up!
Boys Event…
Parents of boys – it's time to buy your tickets! The Roosevelt Boys Event will be held on Saturday, May 7. This is a "Red Carpet" movie event so bring your blankets and enjoy some treats and enjoy the movie! We will be watching the movie "The Good Dinosaur". Tickets are $5 per person. Look for the red flyer that came home in last Thursday's folders.
The Roosevelt Boys event is for Roosevelt Boys & their special person only, no child that is not a boy or Roosevelt student will be permitted.
5th grade parents are being asked to volunteer, but all volunteers are welcome!
We will need help with the photo booth, which already has an attendant but we'd like someone to help with props. We need help serving Sweet treats and with the  popcorn machine. Volunteers are also needed with setup & cleanup. The committee would also appreciate cookies, brownies and small sweet treat donations and bottled waters for the boys event.  Please contact Amber Moeckel if you can help out or help with waters or treats at amberdawn519@yahoo.com
RCEF Benefit…
Mark your calendars for the RCEF's Benefit for a Brighter Future event on May 13 at Canada College!
Benefit for a Brighter Future is the Redwood City Education Foundation's premiere fundraising event, generating up to 30% of our annual income. We are fortunate each year to welcome an ever-growing number of Redwood City's top educators, community members, and business leaders for an evening of inspiration, fun, and opportunity. If you would like to sponsor, help with the event, or just learn more, please contact us at: info@rcef.org or phone 650-269-0430. Early Bird tickets are available now at https://www.eventbrite.com/e/rcef-benefit-for-a-brighter-future-2016-tickets-22935883846
Art Show Help Needed…
The end of the school year is approaching and our Art teacher, Marlene Perez, has planning for the May 19 Art Show on her mind.  She will be needing volunteers on May 18 & 19  to prep, label, and install the art and then more volunteers on May 20 to take it all down. If you can staple, she needs your help! No other skills required! Please contact Marlene at marlenevperez@comcast.net

"Like" us on Facebook…
We've been posting a lot more content on our school's Facebook page so be sure to "Like" the Roosevelt page to get school and district updates and pictures from the classrooms in your news feed.www.facebook.com/RooseveltElementarySchool
If you've liked our page but are not seeing any updates in your timeline, you need to start liking or commenting on occasional posts to have them show in your timeline regularly. You can also click on the "Liked" box and in the pull down menu select "Get Notifications".
Have a great week!
---

Advertising helps supplement this free website by DigitalPTO.com | Disable Ads Here