Mark your calendars for the following events at Roosevelt:
Please Note: The countdown is on and there are only 5 weeks left of this school year! Events are constantly added to the list of Important Dates, so make sure you check each week. The most updated information can always be found on the parent blog, so check this page often!
SBAC Testing: SBAC testing continues for students in grades 3-8 until May 13. This is the state testing that students participate in each year. Make sure your student gets plenty of rest each night, a good breakfast, and BE ON TIME each morning!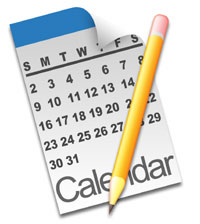 Tuesday, May 10
5th grade (Room 13) Heal Farm Field Trip
1st grade field trip t0 SF Zoo at 8:00am (PBL Unit: Feathers, Fur & Scales – "How do plants and animals survive in their habitat?)
2nd grade field trip to Coyote Point at 8:30am (PBL Unit: The Buzz About Bees – "How are plants dependent on pollinators?)
Heavenly Hats fundraiser begins! Heavenly Hats is an organization that donates brand new head wear to cancer patients and hospitals all around the United States. Roosevelt students will be able to buy tickets to wear a had or hoodie in class during Spirit Week in June. Student Council will be selling stickers for $1, after school in front of Rm 7, on Tuesday May 10th, 17th, and 24th. Sticker sales are open to all grade levels and all money raised will go to the Heavenly Hats Foundation.
8th grade Graduation Planning Meeting at 6:00pm
Wednesday, May 11
Student of the Month Assemblies
RSVP for AR Banquet Due. Invitations went home on Thursday for students who qualified for the Banquet by meeting all 3 AR goals for the year. Contact the school office to RSVP at 650-369-5597.
Thursday, May 12
Rooms 6A and 6B Special Olympics Field trip to Gunn High School at 8:30am
Friday, May 13
DARE graduation at 8:30am
RCEF Benefit at Canada College (more information below)
Important Dates…
May 17 – 6th grade computer museum field trip 9:00-2:00
May 17 – Heavenly Hats fundraiser tickets sold after school in front of Room 7
May 17 – AR Banquet for students who made all three AR reading goals at 6:00pm
May 17 – 20 – Book Fair in Library (Kinder parents asked to volunteer)
May 18 – Kaiser "Best Me" Assembly for grades 1 – 3 at 8:45am
May 19 – Art Show – 5:30pm – 7:30pm
May 19 – Open House 6:00pm – 7:00pm
May 20 – 7 th grade makers fair field trip
May 23 – 6th grade students leave for their week in Yosemite
May 23 – Spring Instrumental Music Concert at Sequoia High School (Carrington Hall) at 6:30pm
May 23 – Kent Award Ceremony in Foster City
May 24 – Heavenly Hats fundraiser tickets sold after school in front of Room 7
May 25 – 4th grade field trip to San Juan Bautista
May 30 – Memorial Day – No School
May 31 – Crazy Hair Day
May 31 – Talent Show at PCC
June 1 – Twin Day
June 2 – Pajama Day
June 2 – Kinder field trip. Raising a reader blue bag field trip to Schaberg library
June 2 – TK field trip   Palo alto junior museum
June 3 – Outdoor Movie Night! (6th grade families asked to volunteer)
June 7 – 8th Grade "Hall Walk" after Graduation rehearsal (approx 10:30am)
June 7 – 8th Grade Graduation at MIT Auditorium at 6:00pm
June 7 – 8th Grade Graduation Dance
June 8 – 8th Grade Pool Party at PCC
June 8 – Field Day (Need parent helpers)
June 9 – 8th Grade Graduation Breakfast
June 9 – Last Day of School! – Super Minimum Day – all grades released at 12:00 noon
Art Show Help Needed…
The end of the school year is approaching and our Art teacher, Marlene Perez, has planning for the May 19 Art Show on her mind.  She will be needing volunteers on May 18 & 19  to prep, label, and install the art and then more volunteers on May 20 to take it all down. If you can staple, she needs your help! No other skills required!
2nd Grade parents are being asked to help with this event. Please contact Marlene at marlenevperez@comcast.net
RCEF Benefit…
Mark your calendars for the RCEF's Benefit for a Brighter Future event on May 13 at Canada College!
Benefit for a Brighter Future is the Redwood City Education Foundation's premiere fundraising event, generating up to 30% of our annual income. We are fortunate each year to welcome an ever-growing number of Redwood City's top educators, community members, and business leaders for an evening of inspiration, fun, and opportunity. Tickets are available now at https://www.eventbrite.com/e/rcef-benefit-for-a-brighter-future-2016-tickets-22935883846
"Like" us on Facebook…
Be sure to "Like" the Roosevelt page to get school and district updates and pictures from the classrooms in your news feed. www.facebook.com/RooseveltElementarySchool
Have a great week!
---

Advertising helps supplement this free website by DigitalPTO.com | Disable Ads Here