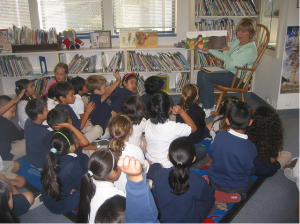 Congratulations to Paulette Elliott, Winner of the 2016 Judy Moomaugh Award of Excellence For Exemplary Service by a Library Paraprofessional! Ms. Elliott was chosen from an extensive list of nominees throughout Santa Clara County and San Mateo County. On May 3, the award committee visited our campus and school library for final judging. She was one of only 4 finalists chosen in both San Mateo County and Santa Clara County.

This annual award is given by the Santa Clara County Office of Education and the San Mateo County Office of Education in memory of Judy Moomaugh, a librarian and dedicated supporter of libraries, who believed that a library paraprofessional could create and sustain a thriving school library environment that the entire learning community could be proud of. Judy encouraged all library paraprofessionals to read, do book talks, do story time, decorate, promote, and build a relevant and engaging collection. This award is presented to a library paraprofessional who goes above and beyond in the effort to support an outstanding school library program.
In addition to all of the work that she does at Roosevelt's library, Paulette also has been helping to set up the Accelerated Reader program district wide.
Congratulations Paulette!
---

Advertising helps supplement this free website by DigitalPTO.com | Disable Ads Here