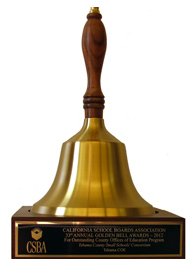 We are thrilled to announce that Roosevelt's Project Based Learning program has been awarded the 2013 Golden Bell Award  by the California School Boards Association.  These awards are given to outstanding programs that promote excellence in education in California schools. The CSBA received 220 nominations this year from school districts throughout California. Roosevelt was one of only 59 programs chosen for this year's Golden Bell Award.
As the only school in the Redwood City School District that has integrated PBL into all classrooms benefiting all students, we are elated to see our hard work recognized by the esteemed members of the CSBA.
We would like to thank our dedicated teachers, staff and parents who work tirelessly to make Roosevelt's PBL program a leader in California,  San Mateo County and the Redwood City School District!
Superintendent Jan Christensen, Principal Patricia Girardi, Assistant Principal Tracy DaCosta, 1st grade teacher Sharon Tsuchiyama, Kindergarten teacher Jennifer Torres and Roosevelt parent and PTA representative Trish Taylor will be traveling to San Diego on December 7, 2013 to attend the CSBA Annual Education Conference. There they will present our PBL program to California's top educators, school board officials and national education experts. The Golden Bell Award will be presented to Roosevelt's delegation during the conference awards luncheon.
Congratulations to everyone that helped to make this award possible!
---

Advertising helps supplement this free website by DigitalPTO.com | Disable Ads Here