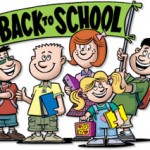 Welcome back everyone!

Monday, August 27
First Day of School!
Classes start at 8:00am for grades K-7.
Grades 1 – 3 are dismissed at 2:00pm and Grades 4 – 7 are dismissed at 2:20pm.
Kindergarteners will be dismissed at the end of orientation.
The First Day of School for Kindergarteners serves as a Parent/Student Info Day. Please note: Kinder Parents must attend the first day and must stay with their child until dismissal. Parents will meet the teachers, learn about pick-up and drop-off procedures, learn lunch and snack routines, give contact information, give Early Bird/Later Gator schedule preference, etc. on that day.
Tuesday, August 28
Kindergarten classes will start at 8:00 and end at 12:40.  
Wednesday, August 29
Kindergarten classes will start at 8:00 and end at 12:40. 
Thursday, August 30
Kindergarten classes will start at 8:00 and end at 12:40
Grades 1 – 7 Minimum Day Schedule.  Grades 1 – 3 are dismissed at 1:00 and Grades 4 – 7 are dismissed at 1:20
Friday, August 31
Kindergarten classes will start at 8:00 and end at 12:40
Important Dates…
September 3 – Labor Day Holiday – No School
September 5 – Back to School Night for Mrs. Parkhurst's 3rd grade class
September 6 – Back to School Night and Ice Cream Social
September 10 – Kindergarten Early Bird and Later Gator schedule begins
October 6 & 7 – Beautification Days at Roosevelt
Be Safe for Drop Off and Pick Up…
Roosevelt's only official drop off zone is on Vera Avenue at the white curb by the lower playground. Speed bumps have been installed in front of the school to slow traffic. Please be courteous and do not park in the Principal, Office Manager or Staff parking spaces in front of the school.
To access the drop off zone, drive down Vera from Alameda de las Pulgas. The drop off zone times are 7:30am to 8:30am and then 1:00pm to 3:00pm on school days. Students are to be dropped off and picked up in this area. Instead of driving up Vera, you need to drive up Madison and make a Left on to Winslow and then a Left on to Vera to use the drop zone. You may not make a U-turn on Vera and if you get caught, it is a very expensive ticket.
Do not use the school's bus loading zone at the top of Vera in front of the school library – this zone is for school buses only, and dropping kids off at this location is not only dangerous, it also slows down the flow of all the other cars, and any buses coming in.
Please allow extra time – everyone is very busy, but that's no excuse to put our kids' safety at risk – leave a few minutes early to allow ample time for drop off and pick up. Just a few minutes can make a great difference, and help to make the traffic circulation around our school more efficient for everyone.
If you want to escort your child onto campus, another option is to park on Euclid Avenue or in the Rite Aid parking lot.
Please be courteous and respectful of our school's neighbors and never park in front of driveways.
YMCA Job Opportunity…
The YMCA after school program is looking for one staff person. The hours are 2:00pm – 6:00pm M,T, W, F and 1:00pm-6:00pm on Thursdays. The pay is $12 per hour.  If you know of someone… please email Veronica,  vega.veronica@gmail.com
Yard Duty Positions Available…
The school needs 3 or 4 people for yard duty this year. The hours are 10:50am – 1:10pm every day. The school pays $12 hour. If you are interested, please let Gwen in the office know. You will have to fill out an application with the district and get fingerprinted.
Reminder…
The school gates are locked at 8:30am and not unlocked until 1:55pm (or 12:55 on Minimum Days).  If you are coming on to the campus after 8:30am, you need to sign in at the office.
On the Parent Blog…
This year I would really love to show even more of the daily life at Roosevelt on our parent blog.  It's difficult for the teachers to consistently take pictures since they're busy with class instruction.  If you're volunteering in the classroom, chaperoning on field trips or helping out on campus, please take a picture or two and send them to me.  I would also be happy to post any work by your child – artwork, stories, poems, etc.  If you or your child would like to write something for the blog let me know. If you can send an email, you can write a blog post – it's that easy! And remember, any school news is always posted to the parent blog, so please bookmark the page and check it often! 

PTA…
If you didn't turn in a donation or pledge form at MAZE day, you can still turn one in.  The PTA is asking each family to contribute $100 per child for the school year. You can sign up for a monthly contribution for as little as $10 per month. That's about 55 cents for each day that your child is in school! Donations to the PTA support our art program, music, field trips, drama, outdoor education, library, assemblies and various needed items and supplies for this school year. Checks can be made out to Roosevelt PTA.  Please stop by the office or send your pledge forms in an envelope to school with your child. Thank you for supporting the extra curricular programs at Roosevelt!
Donation Matching…
If you want to make a donation to Roosevelt's PTA (or have already made a donation), make sure to check with your company's HR department to see if they offer donation matching to 501c non-profit organizations.
Art for this year…
We're excited to announce that this year, the PTA is sponsoring art for all grades through a program called Arts4All. This program provides an art teacher to each class to teach lessons throughout the year. The students will be learning basic art techniques as well as studying art masters. This program wouldn't be possible without the generous donations by our families to the PTA.
Save the Date…
Roosevelt is very fortunate to be the recipient of a Beautification Day (actually a weekend) by some wonderful community sponsors including PCC and 2nd Mile. They have a lot of wonderful plans for our campus, but they can only happen with the help of our families. There will be something for every skill level and ability and children are encouraged to help on that day as well. More details will follow as the date approaches, but please save October 6 & 7 on your calendars for this wonderful event/gift.
Spirit Wear…
More spirit wear will be available for purchase at Back to School Night. A list of available items and prices will be sent out before Back to School Night.
Don't Forget…
Make sure to put your child's name on any sweaters, sweatshirts or jackets that they bring to school.  The Lost and Found was overflowing with unmarked jackets and sweaters last year that could have been returned if they had a student's name on the tag.
Have a great week!
---

Advertising helps supplement this free website by DigitalPTO.com | Disable Ads Here